Man with gun arrested at Trump rally in Texas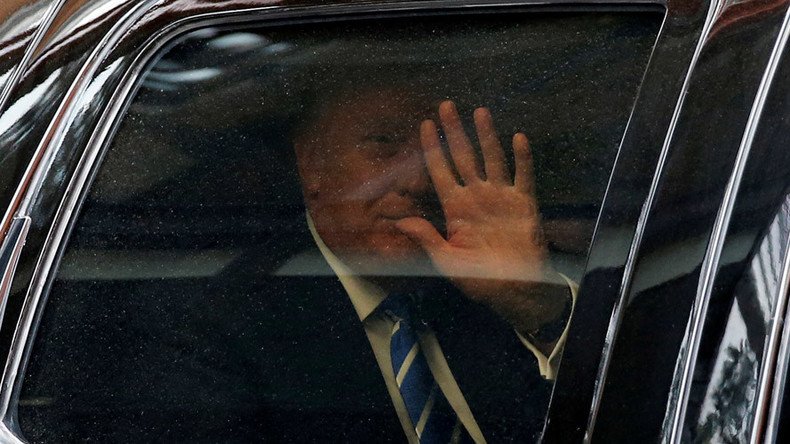 A man with a gun has been taken into custody at a Trump rally in The Woodlands, a smaller city outside of Houston, Texas, local media reports.
The man was found on the fourth floor of a parking garage with the gun, KPRC reported. Why he had the gun or how he was found remains unknown.
#BREAKING Man w/gun taken into custody at @realDonaldTrump rally in The Woodlands

— KPRC 2 Houston (@KPRC2) Jun 17 2016
The man was found with a suspicious package and was questioned by the Montgomery County Sheriff's Office. A deputy was reported to have found the gun in a bag while questioning the man.
Presumptive Republican presidential nominee Donald Trump is scheduled to speak at 7 p.m. local time at the Marriott Hotel and Convention Center in The Woodlands. While it does not seem that the rally will be delayed as a result of the arrest, beleaguered hotel employees have been fielding opinions on the rally.
Marriott employee outside Trump rally: "We been getting bad (phone) calls all day about this event."

— Dylan Baddour (@DylanBaddour) June 17, 2016
Whether the armed man was a protestor or supporter of Trump remains to be seen. However, organizers did stress that there would be heightened security at the event, the Houston Chronicle reported. Attendants were told to bring as little as possible into the convention center and many common rally items, such as homemade signs, banners, professional cameras with a detachable lens, tripods, monopods, selfie sticks, backpacks or large bags were banned.
WE DEMAND AN ANSWER ABOUT WHY YOU'RE NOT ARRESTING PEOPLE THREATENING MASS SHOOTING AT TRUMP'S HOUSTON RALLY!! @SecretService@FBIHouston

— Mark Dice (@MarkDice) June 17, 2016
In an effort to extend goodwill to the presumptive GOP presidential nominee, Mahir Sayeed, 17, had attempted to organize local Muslims to come and shake Trump's hand in an effort to contrast against Trump's hard-line stance on Islam and Muslims.
However, Sayeed was asked by elders in the Muslim community to call it off, citing concerns over the increasing violence at rallies which included people bringing riffles to defend the Dallas Trump rally.
Although the rally is not set to begin until 7, supporters lined up as early as 9 am. While protestors have lined the streets at other Trump rallies, the hotel management at the Waterway Marriott does not anticipate the same thing in their location as it is private property, KPRC reported.
Trump's supporters were not the only early birds on Friday. The Montgomery County Sheriff's Office also arrived early to set up an incident command center, limited access as well as to put up barriers between potential protestors and attendants, KTRK reported.
You can share this story on social media: