Jo Cox murder accused Thomas Mair gives name as 'death to traitors, freedom for Britain' in court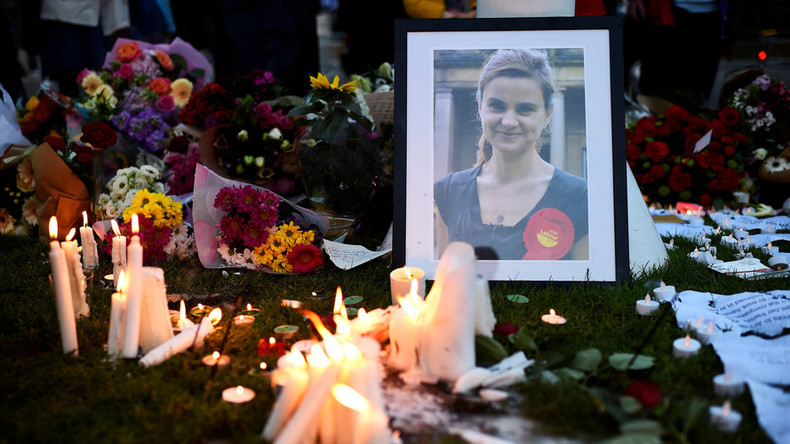 Thomas Mair told Westminster Magistrates Court his name was "death to traitors, freedom for Britain" during his first court appearance after being charged with the murder of Labour MP Jo Cox.
Cox, 41, died Thursday after being stabbed and shot outside her Birstall advice surgery in the constituency of Batley and Spen, in West Yorkshire.
The 52-year-old defendant from Birstall, West Yorkshire, appeared in the London court Saturday morning after being charged Friday with murder, grievous bodily harm, possession of a firearm with intent to commit an indictable offense and possession of an offensive weapon by West Yorkshire police.
READ MORE: Thomas Mair charged with Jo Cox's murder as police look into suspect's far-right interests
Mair has been remanded in custody at Belmarsh Prison, ITV reports. He will appear in court again on Monday at the Old Bailey.
Police confirmed Friday that the violent attack on the Labour MP was "isolated but targeted" and are investigating motives for the attack.
Investigators are prioritizing looking into emerging evidence that links the suspect to far-right extremist groups as well as reports that Mair had used mental health services. West Yorkshire Police also confirmed in a statement that Mair had been determined "fit for detention and fit for interview."
READ MORE: Murdered Labour MP Jo Cox faced months of security threats before attack
The Crown Prosecution Service special crimes and counter-terrorism unit engaged with police investigating the MP's murder, The Guardian reports, but no terrorism charges have been filed.
The MP for Batley and Spen was airlifted to Leeds General Infirmary after the brutal attack but died less than an hour later from her injuries.
A 77-year-old local resident, a former coal miner, who intervened and tried to help Cox sustained a serious injury to his abdomen. He remains in a stable, 'non-life threatening' condition in hospital, police said Friday.
Cox's assistant Fazila Aswat tried to comfort her as she lay bleeding. Aswat's father said in a TV interview that the MP tried to rise from the ground, but then told her assistant that she was in too much pain.
READ MORE: Brexit referendum campaigns suspended after Jo Cox MP murder
A number of eyewitnesses reported that the attacker shouted "Britain First" before killing Cox. The far right party of the same name has criticized media coverage of the eyewitness accounts, claiming such reports are "monstrous lies," Britain First has denied any connection to Mair and has condemned the attack.
Mair's connections with neo-Nazi groups have been highlighted by the Southern Poverty Law Center (SPLC) in the US, who claim he was a dedicated supporter for decades of the National Alliance (NA), a neo-Nazi organization which has been calling for a "white homeland" in the United States.
The SPLC says it found invoices suggesting Mair spent more than $600 on far-right literature, including a gun-making manual, published by the hate group.
It's also being reported that police found "Nazi regalia" at Mair's house during their searches, and that he had subscribed to a pro-apartheid South African magazine.