Brexit referendum campaigns suspended after Jo Cox MP murder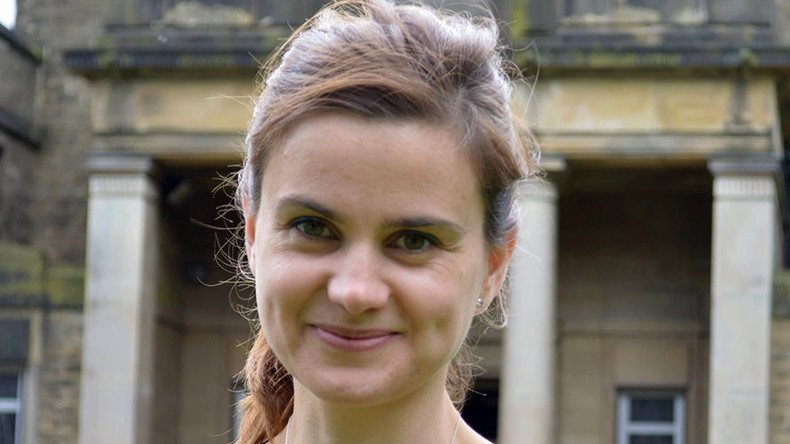 EU referendum campaigning has been suspended out of respect for a Labour MP who has died after a brutal shooting and stabbing attack in her West Yorkshire constituency.
Britain Stronger In Europe and Vote Leave halted their campaigns on Thursday afternoon after news of the attack broke.
Both campaigns have been suspended until further notice out of respect for Jo Cox, who was carrying out official duties at the time of the assault.
The Labour MP was reportedly shot three times, once in the head, at around 13:00 BST while attending her constituency advice surgery in the West Yorkshire town of Birstall.
The assailant allegedly shouted "Britain First" after the attack – the name of a far-right group. A 52-year-old man was apprehended by police soon after the incident.
Britain First has sought to distance itself from unsubstantiated rumors that the suspect, Tommy Mair, is a member of the group.
Responding to news of Cox's death, Home Secretary Theresa May said: "It is entirely appropriate that all campaigning for the referendum has been suspended."
Jo's husband, Brendan Cox, issued the following statement about his wife's death.
"Today is the beginning of a new chapter in our lives. More difficult, more painful, less joyful, less full of love. I and Jo's friends and family are going to work every moment of our lives to love and nurture our kids and to fight against the hate that killed Jo.
"Jo believed in a better world and she fought for it every day of her life with an energy, and a zest for life that would exhaust most people."
PM cancels Gibraltar trip
Prime Minister David Cameron cancelled a campaign trip to Gibraltar after learning of the attack.
He tweeted: "It's right that all campaigning has been stopped after the terrible attack on Jo Cox.
"I won't go ahead with tonight's rally in Gibraltar."
Cameron had planned to visit the British enclave in Spain to urge its 23,000 UK citizens to vote to remain in the EU on polling day next week.
The British PM's planned campaign trip had angered Spanish Prime Minister Mariano Rajoy, who told Spanish National Radio the campaign should take place in the UK and not in Gibraltar.
Leave camp mothballs battle bus
Vote Leave has mothballed its battlebus as a mark of respect for Cox.
Speaking aboard the bus, Leave frontman and former London Mayor Boris Johnson said his thoughts are with the victim's young family.
"A colleague of ours, Jo Cox, has been attacked and very seriously injured today. We have decided in view of that to suspend all campaigning.
"Our thoughts are very much with Jo and her family."
European politicians unite in shock
Politicians from across Europe came together to express outrage at the murder.
European Commission President Jean-Claude Juncker said: "Deeply shocked by news of terrible attack against MP Jo Cox. Thoughts and prayers with her husband and children."
Spanish Prime Minister Rajoy said he condemned the "terrible attack" on Cox, adding that "violence has no place in democracy."
Labour leader Jeremy Corbyn issued a statement expressing grief and shock at Cox's murder.
"The whole of the Labour Party and Labour family – and indeed the whole country – will be in shock at the horrific murder of Jo Cox today."
Speaking after the attack, Shadow Policing Minister Jack Dromey told BBC News the attack must not stop the democratic process from taking place.
"What we cannot allow to happen is for savagery of this kind to stop the democratic process of members of parliament doing their job, because that is what the people expect," he said.
You can share this story on social media: