Holocaust loot? Nazi hunters say chandelier in Sturgeon's residence may come from Jewish family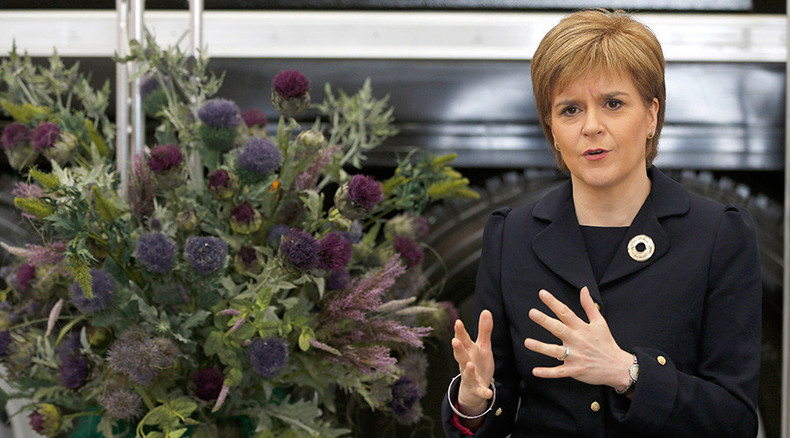 Scottish First Minister Nicola Sturgeon could be questioned about the origins of a chandelier that hangs in her official residence of Bute House, after allegations it was looted from a Jewish family by Nazis during World War II.
According to a tourist guidebook for the house, the glass chandelier was "found in the street" in Germany, but a report from the Simon Wiesenthal Centre, which investigates Holocaust history, has suggested it may have been taken from a collection of looted valuables.
Bute House is located in Edinburgh. The light fitting hangs in the drawing room.
The house originally belonged to the Marquess of Bute, and was given to the National Trust in 1966. After 1970 it first provided residence for the Secretary of State for Scotland, and then from 1999 it became the official residence of the Scottish First Minister.
READ MORE: 'Washington fears Brexit,' says Nicola Sturgeon
The guidebook states that interior designer Felix Harbord, who was given the task of organizing Lady Bute's homes, served in the Allied forces during World War II and was tasked with repatriating stolen works of art.
Harbord began his work with stolen artworks near Hannover in 1945 at a collection point that gathered all the art looted by Nazis in the British control zone.
"One day he came upon this chandelier abandoned in one of the streets of Cleves and had it packed in empty munitions boxes, which he addressed to No. 6 Charlotte Square. With the help of Edinburgh antique dealers, Lady Bute traced suitable replacements for the missing pieces of glass and successfully assembled and installed the light fitting in the drawing room at Bute House," the guidebook says.
But research from the Simon Wiesenthal Centre suggests it may have been taken from "legitimate German ownership."
Eric Gibbons, who authored the research by the Simon Wiesenthal Centre, said more research was needed to trace the origin of the light fitting, but noted that Harbord had removed artwork to Scotland during his time in Germany.
"A number of matters arise from the chandelier affair. In this instance, Harbord had established a means of removing, from Germany, an unprovenanced artwork by placing it in an empty munitions box and addressing it to a client in Scotland. Further research is required to try to establish the origins of the chandelier in question," he said.