'Washington fears Brexit,' says Nicola Sturgeon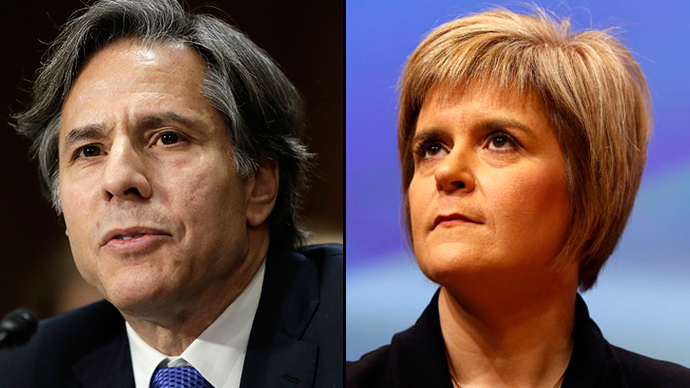 Scottish Nationalist Party (SNP) leader Nicola Sturgeon, who was previously dubbed Britain's most dangerous woman, said the possibility of a Brexit has roused a "palpable sense of concern" in Washington.
Sturgeon made the remark on Wednesday, fresh from a visit to Capitol Hill, where she met with US Deputy Secretary of State Antony J Blinken.
Top US officials, including President Barack Obama, have openly stated they would like Britain to remain a part of the EU. Sturgeon, who succeeded Alex Salmond as First Minister of Scotland in November, told the Telegraph this stance was clear during her visit to Washington.
"There's no doubt that there's a very palpable sense of concern at the prospect of the UK coming out of the EU and an interest in how that debate will develop," she said.
FM @NicolaSturgeon meets @ABlinken, Deputy Secretary @StateDept in Washington today. pic.twitter.com/qY0TLWTn6T

— First Minister (@ScotGovFM) June 10, 2015
Sturgeon made the comments, following talks with Blinken and one of Obama's most trusted policy advisers. The four-day visit was her first trip to Washington as First Minister of Scotland.
Reflecting on Britain's special relationship with America, she said US-UK relations will always be strong despite the possibility of a Brexit.
The SNP leader also said the US administration is concerned about potential cuts to UK defense budgets and PM David Cameron's unwillingness to commit to NATO spending targets.
READ MORE: 'Obama helped Scottish Nationalists,' claims SNP leader Nicola Sturgeon
READ MORE: UK's 'most dangerous women' vow to save Human Rights Act
READ MORE: SNP attacks Tory govt's austerity and 'woefully lacking' devolution plans
The cross-border military alliance is calling on member states to spend at least 2 percent of their gross domestic product (GDP) on defense.
Following last years No vote in Scotland's independence referendum, Sturgeon said the vote was a "once in a generation" affair.
She has since reneged on this stance, however, hinting there could be a second vote on Scottish independence if Britain leaves the EU.
While the US administration appeared to back the British establishment's No campaign during the Scottish independence race, Sturgeon said US officials seemed unfettered by the possibility of a second vote on the issue.
"There have been questions but not, as far as I can detect, out of a spirit of concern but out of a spirit of interest," she told the Telegraph.
Sturgeon's discussions with Blinken on the upcoming in/out referendum were productive, a Scottish Government spokesman told the National.
"This was a warm, friendly and constructive meeting between the first minister and deputy secretary of state in which the long-standing ties between Scotland and the USA were reaffirmed," he said.
Sturgeon previously said Obama's call for Scots to stay in the UK backfired, increasing support for independence. She made her comments as she prepared to meet a senior US diplomat in Washington.
She also said her opposition to harsh austerity and Britain's nuclear deterrent, Trident, doesn't make her anti-American.
The SNP leader's US trip also featured an appearance on satirical news program the Daily Show with Jon Stewart. Her four-day charm offensive in America has been dubbed a roaring public relations success by observers.
Sturgeon's appearance on the Daily Show attracted positive reviews in the press.
At one point Stewart compared Sturgeon to Saddam Hussein when she revealed she had ordered an inquiry into why the SNP fell three seats shy of winning every single parliamentary seat in Scotland in May's general election.
"So you think you're Saddam Hussein? You get 99 percent?" Stewart probed.
"I think you should always aim for more," Sturgeon shot back.
FM @NicolaSturgeon speaks at the @WorldBank about how "economy and equality go hand in hand" pic.twitter.com/NVJire9PtW

— First Minister (@ScotGovFM) June 10, 2015
Sturgeon, who openly opposes the Conservative Party's harsh austerity agenda, also visited the World Bank in Washington. Addressing crowds gathered at the Bank's US headquarters, Sturgeon hinted the government's economic strategy was as much about ideology as it is about policy.
"We're investing in the innovation and infrastructure, which is essential to future productivity growth," she said.
"But as part of that, we're also creating an inclusive society – one which harnesses the talents of all of our people, and which shares the benefits of growth more equally."