'Obama helped Scottish Nationalists,' claims SNP leader Nicola Sturgeon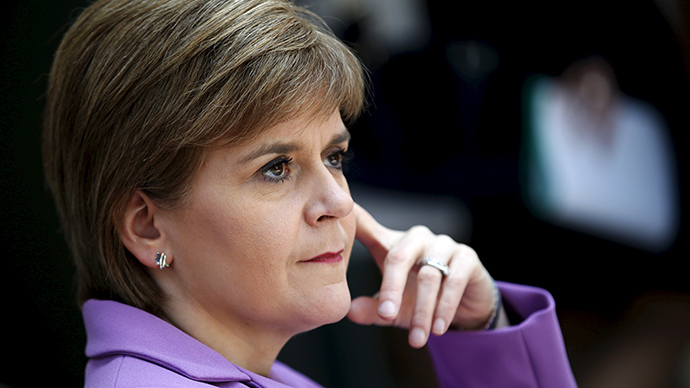 Scottish First Minister Nicola Sturgeon has said President Barack Obama's call for Scots to stay in the UK backfired, increasing support for independence.
Sturgeon made her comments as she prepared to meet a senior American diplomat in Washington.
The Scottish National Party (SNP) leader has been on a charm offensive in the US this week, even appearing on popular satirical news program The Daily Show with Jon Stewart.
Sturgeon said she was not "sore" about Obama's intervention because it had a "strange" effect on Scots.
She said when the US president spoke about Scotland it sent a message to voters that the referendum was making the country "much more important" and supporting independence "would make the world sit up and take notice."
@scottishlabour AMERICA STURGEON pic.twitter.com/Kl2RTudZ3Q

— Starbright164 (@STARBRIGHT164) June 10, 2015
Obama made the surprise intervention in British politics while speaking at a press conference with Prime Minister David Cameron in June last year.
He told assembled press: "I would say that the United Kingdom has been an extraordinary partner to us. From the outside at least, it looks like things have worked pretty well.
READ MORE: Trident nuke safety questioned by Salmond after Navy whistleblower leak
READ MORE: SNP attacks Tory govt's austerity and 'woefully lacking' devolution plans
READ MORE: EU referendum: Cameron to face stiff SNP opposition to bill
"And we obviously have a deep interest in making sure that one of the closest allies that we will ever have remains a strong, robust, united and effective partner. But ultimately these are decisions that are to be made by the folks there."
Asked by BBC Radio Scotland if she was still "sore" about Obama's comments, Sturgeon insisted she wasn't.
"President Obama had the right to say what he said. I think he did that in a fairly diplomatic and charming way, although I don't think anyone was in any doubt about what he was seeking to convey," she said.
"I reflected at the time and I have reflected since that there was actually quite a strange reaction to that.
"For many people in Scotland, hearing President Obama speaking about Scotland sent a message that the referendum was making us much more important and that independence would make the world sit up and take notice," Sturgeon added.
The first minister told a fundraising reception in New York for the Glasgow School of Art that she wanted a "positive relationship" with the United States.
Sturgeon insisted her opposition to austerity and Trident does not make her anti-American.
"Scotland is not an independent country, but that doesn't mean we shouldn't seek to have a voice on the international stage," she added.
Sturgeon met US Deputy Secretary of State Tony Blinken in Washington on Wednesday.
The SNP leader's charm offensive has gone down well in the US so far.
Her appearance on The Daily Show attracted positive reviews in the press.
At one point Stewart compared Sturgeon to Saddam Hussein when she revealed she had ordered an inquiry into why the SNP fell three seats shy of winning every single parliamentary constituency in Scotland in May's general election.
"So you think you're Saddam Hussein? You get 99 percent?" Stewart quipped.
"I think you should always aim for more," Sturgeon shot back.