EU referendum: Cameron to face stiff SNP opposition to bill
Published time: 9 Jun, 2015 10:47
Edited time: 9 Jun, 2015 13:48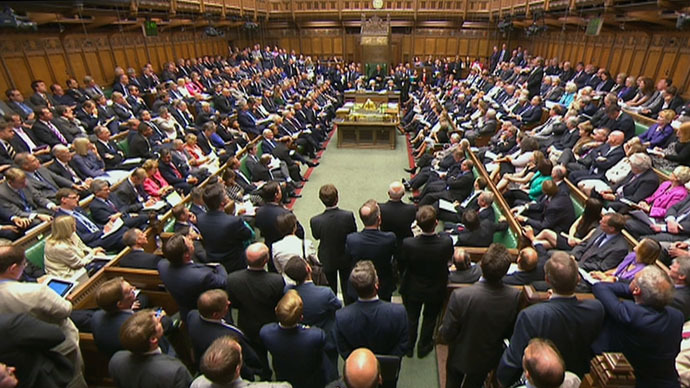 Prime Minister David Cameron is expected to face staunch opposition from Scottish nationalists as he returns to the House of Commons on Tuesday to debate the EU Renegotiation Bill following the G7 summit in Germany.
While both Labour and the Liberal Democrats are likely to show their support for the bill, the Scottish National Party (SNP) is expected to aggressively oppose the proposals, claiming the reforms will ostracize 16 and 17 year olds who want to vote.
They are also expected to propose a "double majority" – where an exit from the EU can only go ahead if all four countries making up the United Kingdom agree – to ensure Scotland isn't dragged out of the EU even if it votes to stay in.
Labour has already disclosed some details about its approach to the referendum campaign, with Shadow Foreign Secretary Hilary Benn saying while his party may join the official "Yes" campaign, the party would also be running its own campaign to stay in the EU.
He told the Daily Mirror: "There are distinctive Labour values about workers' rights and fairness which are not shared by the Conservatives. Look at the legislation they're proposing to bring forward. That's why it's important alongside all these other voices that there is a distinctive Labour voice in the campaign."
The Tories are also gearing up for a hot debate, with Eurosceptic MP John Redwood telling Sky News he wants "the restoration of UK democracy."
READ MORE: Cameron U-turns on threat to sack MPs who back Brexit
READ MORE: SNP attacks Tory govt's austerity and 'woefully lacking' devolution plans
He called the row over whether or not Cameron would give ministers a free vote on the issue "a muddle," adding: "I don't think he has decided what will happen when we get into the referendum proper."
Cameron came under fire Monday after he retracted a statement he made at the G7 summit which implied that any Conservative ministers who openly backed a "No" campaign to leave the EU would lose their job.
The prime minister later claimed his comments had been "misreported," and ministers would only be subject to punishment during the renegotiation stage rather than during the campaign itself.
His comments were made in response to a newly formed group of 50 Conservative MPs, calling themselves the Conservatives for Britain (CfB), whose main demand – for Britain to have a veto over EU legislation – was rejected by UK ministers.
Speaking at the G7 on Monday, Cameron said: "I don't know the outcome of the negotiations. I hope and I believe the outcome will be Britain with a better place in the EU dealing with our problems, and therefore I will be able to recommend Britain will be able to stay in a reformed EU.
"That is the aim, that is what I want to achieve, and I am confident of achieving it. I have said many times I do not know the outcome of the negotiations and if I don't achieve what I want I rule nothing out."
Think tank Open Europe has suggested Cameron should negotiate with other EU leaders to gain a major revision of the Lisbon Treaty before the referendum is held, or his position will be weakened.