​Neglected & hungry: 1mn elderly patients suffering in NHS hospitals - report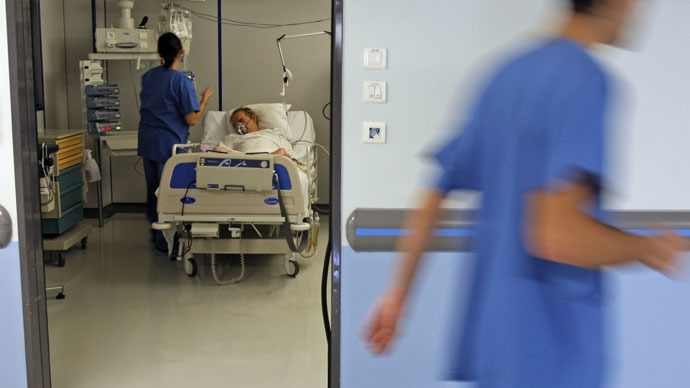 Over one million senior patients are being maltreated in public hospitals across England with many going hungry because they are not being offered help to feed themselves, a damning report reveals.
Published on Wednesday by the London School of Economics (LSE), the research analysed National Health Service (NHS) data relating to patients' experiences and opinions.
The report shows large numbers of NHS patients, many of whom are elderly, must contend with chronic inadequate care during their hospital visits.
It also revealed many of these patients do not receive enough assistance during mealtimes and are left hungry as a result. Some 640,000 of these affected are aged over 65.
The LSE's report said "poor" standard care in hospitals is more common among older patients, women, and those with longstanding illnesses.
READ MORE: Patients left without food, water, pain relief in N. Irish hospitals, inquiry reveals
Inadequate treatment was absent in "isolated outlier healthcare providers" but apparent in the "vast majority" of NHS hospitals, the research said.
Age UK Director Caroline Abrahams said the "sobering" report confirms that hospitals "need to redouble their efforts" in the field of patient care.
But she emphasized the data from the LSE's research is based on survey's carried out in 2013, and more recent stats "suggest some welcome improvement."
Abrahams noted the more vulnerable an elderly person is, the higher the risk of them receiving poor treatment, adding that this trend is a major concern.
READ MORE: War on NHS: A&E crisis 'worse than Iraq war' - senior nurse
Abrahams called for urgent reforms, insisting no hospital "can afford to be complacent."
In response, a spokesperson for the NHS said one of the critical tests of a modern health service "is how well it looks after older patients."
Citing "significant" changes made to UK care services since 2013, the NHS spokesperson said the health service would expect "widespread improvement in compassionate and dignified care for older and vulnerable patients."
However, the elderly aren't the only vulnerable patients who are being mistreated in NHS hospital wards.
On Wednesday, an inquiry found Britain's mental health beds crisis is driven by discharge delays and government cuts to community services rather than hospital closures.
The revelation was uncovered by a report produced by the commission on acute adult psychiatric care in England.
It revealed there was a 39 percent reduction on the number of inpatient psychiatric beds in England between 1998 and 2012 and more than 2,000 beds have been closed across the country since 2011.
The study's authors have called for root–and-branch reforms of UK mental health care services.