Patients left without food, water, pain relief in N. Irish hospitals, inquiry reveals
Published time: 27 May, 2015 18:25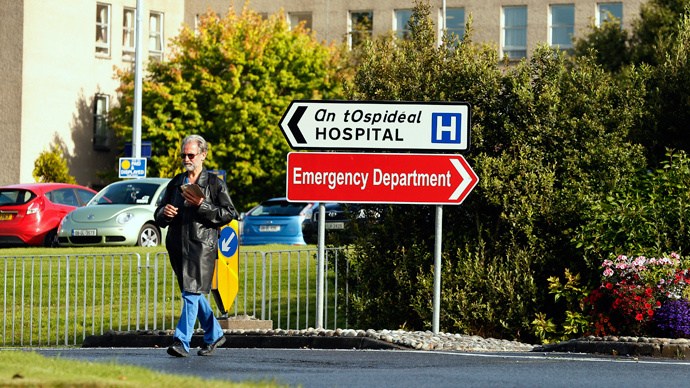 An investigation into emergency health care services in Northern Ireland has uncovered "degrading and inhumane" treatment in the region's accident and emergency (A&E) wards.
The findings released on Wednesday by the Northern Ireland Human Rights Commission exposed inadequate care standards on a number of wards.
It found some A&E departments in the region allowed patients to go without water, food and pain relief for days in overcrowded and understaffed wards.
The report into Emergency Health Care in NI is available at http://t.co/HozBTbVuhd#HumanRightsInquirypic.twitter.com/1Q5u4pRVzo

— NIHRC (@NIHRC) May 27, 2015
NI leading the way in protecting human rights in ED's. Patient Sam Kilpatrick centre stage #humanrightsinquirypic.twitter.com/en8lJxfXsR

— MarieLouise Connolly (@mlchealth) May 27, 2015
Regardless of the new evidence, the inquiry found no solid proof of "systemic violations of human rights."
It found that many patient interactions with staff were "positive," but services were let down at times by a lack of kindness and attention from health professionals.
Further evidence revealed cases of elderly patients being transferred to or from their homes alone at night in taxis, suggesting they are not a priority.
Chief Commissioner of the NIHRC Les Allamby said that with around 700,000 A&E visits each year in Northern Ireland "this is an issue which touches almost everyone's life."
Blind and partially sighted patients also endured a "lack of physical provision," the inquiry revealed.
Some of the wards inspected lacked buzzers and braille information, making it harder for vulnerable patients to get around.
What our Health Service in Northern Ireland has deteriorated too. Antrim A&E pic.twitter.com/8NekXeMbRw

— Jim (@Belfast_Jim) May 26, 2015
Sam Kilpatrick, who is blind, contacted the inquiry claiming he was abandoned on a hospital trolley at Lisburn's Lagan Valley Hospital and left alone for over two hours.
He realized he needed to go to the toilet, but there was "no way of alerting a nurse" as he was "left in a private room," he told the BBC.
READ MORE: Nurse threatens strike action if Tories' '7-day NHS' sparks wage cuts
"The nurse's manner was not nice ... I didn't receive any food or water during that time," he told the broadcaster.
"At the Lagan Valley Hospital emergency department there is no provision for disabled people," he added.
Another patient who had self-harmed told Belfast Live his experience in A&E was "hostile."
The inquiry also found that patients with less common conditions "reported negative experiences from staff, including feeling laughed at," while bullying was a common issue.
"Some felt bullying was not intended but rather symptomatic of behaviors that can occur in a busy [A&E]," it said.
Some argue workplace stress among healthcare professionals is a key reason behind these poor standards.
New figures for Northern Ireland's A&E departments. How is your area doing? http://t.co/FQTarAN8CM#nhswinterpic.twitter.com/JE6KVc3SSe

— BBC News Graphics (@BBCNewsGraphics) February 24, 2015
Northern Ireland has the WORST A&E waiting time performance in UK. Quick - #SaveStormont@StephenNolan

— David Vance (@DVATW) March 10, 2015
Earlier this year it emerged many nurses were unable to cope with the "pressure" of working in A&E because of intensive working hours and understaffing in the UK overall.
Former A&E doctor Clare Hill told RT she quit working at Worthing Hospital "partly because of stress."
READ MORE: War on NHS: A&E crisis 'worse than Iraq war' - senior nurse
In March, Prime Minister David Cameron pledged to provide Britain with a "properly staffed" National Health Service (NHS). "With a future Conservative government, we would have a truly seven-day NHS," he said.
Northern Ireland's Commissioner for Older People Claire Keating told BBC Radio Ulster the report shows "emergency departments must be properly resources and planned for.
"We have to be confident that our older people will know if they are ill and arrive at A&E there will be enough staff and training skill and enough beds."
In response to the inquiry, a spokesperson for the Department of Health said there is a "very clear focus on continuous improvement of the quality of care provided by our emergency departments."