Passengers get sniffy at City boy snorting coke on London tube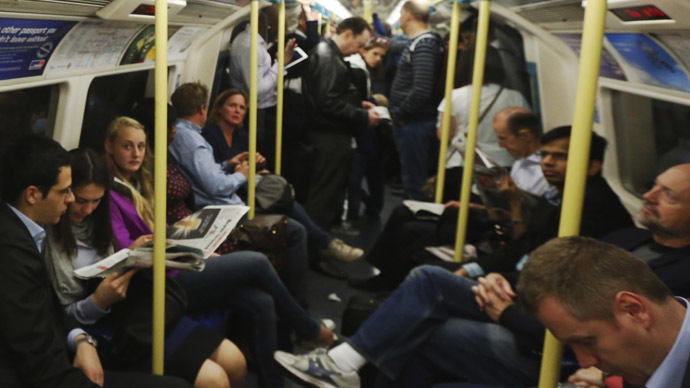 A man thought to be a City finance worker was filmed by passengers allegedly taking Class A drugs on a busy London Underground train.
The man, who claims to work in financial services, is seen pulling out a bag containing an illicit-looking substance, which he then proceeds to snort off the back of his hand.
He tells other commuters: "I just like taking it."
He proceeds to stand up and offer his stash to bemused passengers.
"I'm going to f*ck my gums up silly. I'm not trying to be a d*ck – I just like taking it," he says. "This is no playground, boys. If you want to do a line and f*cking play, you do it."
The video, obtained by the Sun, was filmed at 23:00 BST on June 5, according to the witness who took the film.
VIDEO: "This is no playground boys" - City worker openly snorts cocaine on the Tube http://t.co/aaMO4c8Ylfpic.twitter.com/S6hlO7Th9N

— The Sun (@TheSunNewspaper) June 22, 2015
The as-yet unnamed man is seen bragging about his stash, before pretending he has overdone it.
"Guys, if you want a gummy, there's some on the floor," he says. "I'm pissed. Absolutely f*cking annihilated."
Pointing to the bag of drugs he adds: "I've got this, which is fine."
He then jokes: "Oh my God, I'm f*cked. Oh my God I've just taken way too much coke. I'm freaking out, f*ck, f*ck — why am I on a Tube?"
READ MORE: Britons taking more MDMA than any other country
Passengers in the carriage compared his behavior to hedonist banker Jordan Belfort, The Wolf of Wall Street.
"He didn't seem to care that everyone was watching him. It was just so open," the passenger told the Sun.
"The man was obviously high already. He got out this big bag of coke, it was huge, and just started snorting it.
"He even offered me some. The guy was completely out of it. It was like something out of The Wolf of Wall Street, but on the Tube.
"There were loads of passengers on the train. It was a Friday night and the Tube was packed. This guy was just being an idiot," he added.
The witness said: "He asked whether I was a policeman. People were just trying to get away from him. No one could quite believe [what] he was doing."