​Armed forces charity breaks rank with politically-charged poll opposing cuts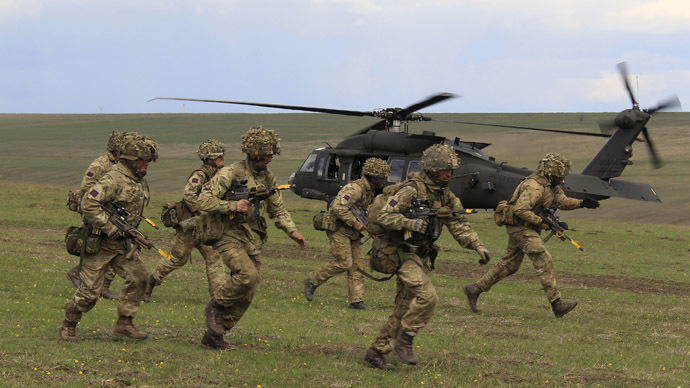 Half of British people do not believe the state can defend itself, according to a poll by a military charity. Such organizations rarely break their non-political stance, indicating growing anxiety over defense spending cuts.
The Soldier's Charity, which is the main army-specific charitable body, found 46 percent of the 2,100 polled by YouGov feel military austerity cuts are leaving Britain unable to defend itself effectively.
READ MORE: 'Sanitized, one-sided account': Veterans blast school resource that 'infects kids with militarism'
Some 65 percent of those asked think there should be a halt to military cuts.
"Given the current instability in the world and the threats the UK faces, it is no wonder that the public feels that our Armed Forces are necessary," said Brigadier Robin Bacon, secretary of the board of trustees at the charity.
The intervention is a break with the traditionally non-political position taken by many armed forces charities.
A senior lecturer at the University of Exeter, Dr. Victoria Basham, however, told RT military charities are "always political to some degree."
"It is new that they are criticizing government policy. It could be motivated by concern about the impacts of cuts on families," she said.
Basham also suggested charities may be emboldened having figured out how to use the Armed Forces Covenant to their benefit.
The Covenant is a mostly symbolic initiative meant to ensure military personnel and their families are not disadvantaged because of their involvement with the armed forces.
READ MORE: Councils must adhere to Armed Forces Covenant – watchdog
Basham said the public has become increasingly "knowledgeable and onside" with issues related to the military in recent years. She suggested charities may now see the Covenant "as a tool" and the defense cuts debate as an "opportune moment" to intervene.
The Covenant's localized version, the Armed Forces Community Covenant, has also been criticized by military watchdogs as a grass-roots program for society's militarization.
Writing for Open Democracy, Emma Sangster of the military watchdog Forces Watch said, "In creating a framework for removing disadvantage in housing, healthcare, education, deployment and other areas, the government has also created a mechanism whereby local authorities, business, educational, charities and community organizations are morally obliged to honor the forces."