'Sanitized, one-sided account': Veterans blast school resource that 'infects kids with militarism'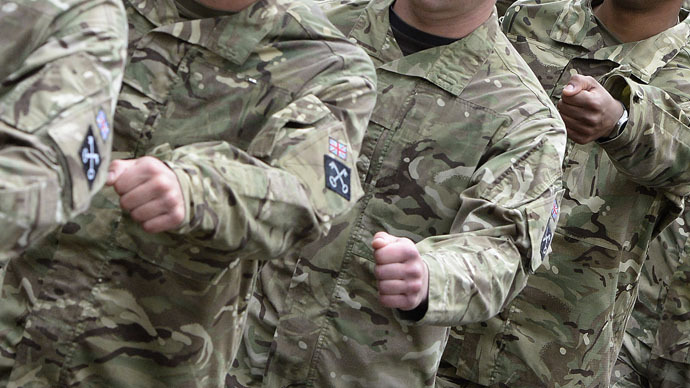 A UK veterans group has slammed an armed forces resource meant for use in schools in the wake of a critical report jointly published by the Quakers and the anti-militarist NGO Forces Watch.
The 58-page Armed Forces Learning Resource 2014 was branded a "poor quality learning resource" by the report's authors, speaking to the Independent.
They were particularly critical of a foreword by Prime Minister David Cameron and comments by Defence Secretary Michael Fallon.
Cameron opens by claiming: "Around the world, the Royal Navy, British Army, Royal Air Force and Royal Marines stand for freedom, fairness, tolerance and responsibility ... There is not a single person in this country who is not a direct beneficiary of their sacrifices and bravery."
In the course of the resource, Fallon argues: "The military ethos is a golden thread that can be an example of what is best about or nation and helps it improve everything it touches."
READ MORE: New British army elite unit to hone social media and psychological warfare
Reacting to the critical report, Forces Watch told RT: "If this was a warts-and-all look at the armed forces, it would not be a problem. Instead it is a glossy promotional brochure that glorifies 'military values' and sanitizes war and has no place in education.
"It includes many contributions from politicians and senior figures in the armed forces who all have their own agenda of promoting the armed forces."
The "Critical Response to 'The Armed Forces Learning Resource 2014'" paper also argues that, while meant for schools, no teachers were involved in its creation.
"Culturally, this is the kind of resource one gets in countries with less-than-democratic structures where civic education is used by governments to manipulate citizens into an uncritical attitude towards the state," a contributor said.
The tone of both politicians' comments have also been challenged by UK military veterans.
READ MORE: Military 'mask': British Army gets 'information warfare' focus, says top general
Former SAS soldier and paratrooper Ben Griffin – who is a veteran of Northern Ireland, Macedonia, Iraq and Afghanistan and a founder member of Veterans for Peace UK – told RT: "This 'learning resource' is nothing of the sort. It is an attempt to infect our kids with militarism whilst pushing a dishonest representation of the 'military ethos.'"
Veterans for Peace UK supporter Duncan Parker, formerly a major in the Royal Army Medical who served in Iraq, told RT: "This resource is an unabashed effort to convince children to unquestioningly support the military and everything it does is the correct way to behave. It is a sanitized and one sided account, leaving out any mention of the true nature of war which inevitably involves the death and injury of innocents and destruction of large swathes of infrastructure."
Not all veterans are against the concept. Glenn Humphries, 29, fought in Afghanistan. While he has some reservations he thinks the idea might have some value. He told RT: "[While] I don't want to see a pro military education for our children, I do think some of the core values promoted in the army could help, such as integrity, discipline and respect for one another."
A Department for Education spokesman told the Independent: "Resources are regularly produced for teachers to help them come up with lesson plans. It is then for teachers to decide what is best for their pupils."