​Military service bad for career prospects, employers' poll finds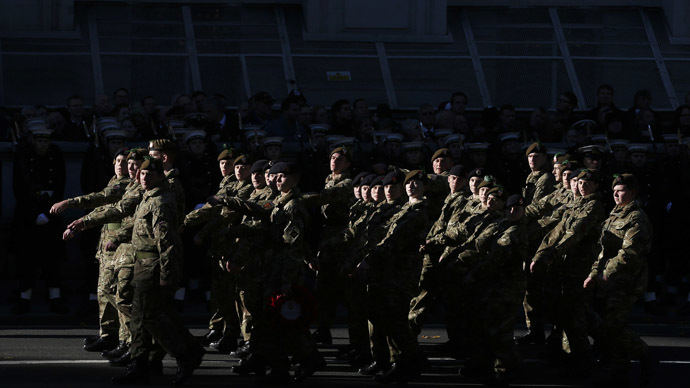 Military service is off-putting to many potential employers who rate a stint in the armed forces as less valuable than a university degree or language skills, according to a new study by Barclays Bank.
Armed forces experience was rated as one of the least desirable features an employee could have by 2,000 hiring managers, with time in uniform rated below volunteer experience but above being "sporty."
The study by Barclays is said to be aimed at highlighting prejudice faced by former service personnel as they seek work and reintegrate after a military career.
READ MORE: Public view armed forces as suicidal, traumatized 'victims' – study
Former Parachute Regiment officer Stuart Tootal, who is now head of security at Barclays, said: "The level of support for the charity Help for Heroes shows the respect for the military that the public has, even if they do not understand how former servicemen and women can add value – we just need to match those two up.
"It is time veterans are valued by their skills, not their scars," he added.
Last Tuesday, a study found that most Britons view military personnel as "victims" who are more likely to commit suicide, suffer from post-traumatic stress and serve prison time.
The survey, carried out by King's College London and polling firm Ipsos MORI, has led to fears that recruiting – already at a serious low – could be further damaged.
The study argues a majority of the public, 53 percent, mistakenly believe that service personnel are more likely to kill themselves than civilians.
Last Thursday a local council watchdog warned that more than lip service should be paid to the Armed Forces Covenant – a symbolic arrangement meant to ensure service personnel are not disadvantaged by their time in the ranks.
The Covenant and its localized version, the Community Covenant, have also been criticized as pushing a form of grassroots militarism onto local government.
READ MORE: Councils must adhere to Armed Forces Covenant – watchdog

Writing for Open Democracy, Emma Sangster of the military watchdog Forces Watch said: "In creating a framework for removing disadvantage in housing, healthcare, education, deployment and other areas, the government has also created a mechanism whereby local authorities, business, educational, charities and community organizations are morally obliged to honor the forces."
"While removing disadvantage towards genuine equality is important, the Community Covenant goes much further by urging local authorities to build on wider support such as 'fundraising, military celebrations and open days, attending homecoming parades and repatriation ceremonies and offering commercial discounts,'" she added.