​Public view armed forces as suicidal, traumatized 'victims' – study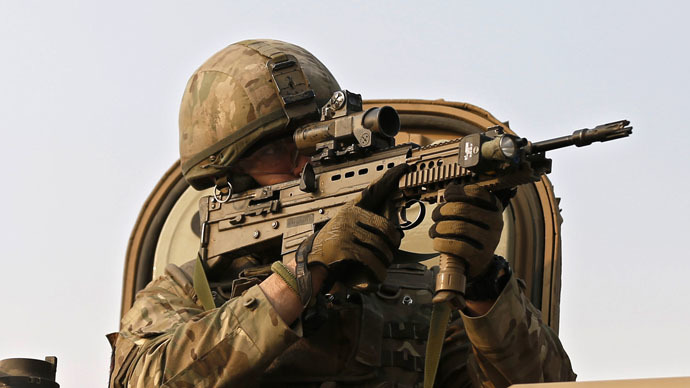 Britons view military personnel as "victims" who more likely to commit suicide, suffer from post-traumatic stress and serve prison time, according to a study, which claims these perceptions are inaccurate.
The survey, carried out by King's College London and polling company Ipsos MORI, has led to fears that recruiting – already at a serious low – could be damaged.
The study argues a majority of the public, 53 percent, mistakenly believe that service personnel are more likely to kill themselves than civilians.
Some 54 percent think former armed forces personnel are more likely, or at least as likely, to be in prison as non-ex-military.
Two-thirds believe current and former military personnel are more likely to suffer from post-traumatic stress disorder (PTSD).
READ MORE: 6 veterans per day seeking post-traumatic stress help – military charity
READ MORE: British war veterans deprived of long-term support – MPs
Writing on the Conversation website, Bobby Duffy, a visiting senior research fellow at King's College, said: "The image we have of our armed forces shifts between the three broad stereotypes of hero, villain or victim with different mental images dominating at different times and in different contexts.
"Two-thirds of the British public think that post-traumatic stress disorder (PTSD) is much more common among the armed forces than among the general public."
"Actually, studies show that levels are similar – yet only 6 percent guess this fact correctly.
"That said, levels are higher for those in combat, which may be what is driving perceptions."
Duffy also argued that commonly held view about the suicide rate for veterans and military personnel are wrong.
"The majority of people (53 percent) also think that the suicide rate is higher among the armed forces than the general public, when it is in fact lower – which only 8 percent of those surveyed correctly identified."
"Over half of the respondents also think that former armed forces personnel are more likely, or just as likely, to be in prison when compared with the population as a whole when actually, they are less likely to be."
The Ministry of Defence (MoD) has consistently maintained that levels of PTSD in the military are the same as those among civilians, a claim contested in a 2013 report by advocacy group Forces Watch.
"The most recent study of Iraq and Afghanistan war veterans across all branches, roles, ranks and ages found a rate of PTSD of 4.2 percent," Forces Watch claims.
"The rate found in the general population in England in the most authoritative study available found a rate of 3 percent, or 2.7 percent if adjusted to reflect the gender profile of the armed forces, which provides a more appropriate comparison."
"The military rate is therefore appreciably higher than that in the general population."
Forces Watch accused the MoD of obscuring figures by ignoring factors such as age and social class.
"Government statistics showing the average prevalence of mental health problems in the armed forces mask the much greater burden that certain groups shoulder, particularly young people from adverse backgrounds and those who have left the forces in the last decade.
"For example, alcohol problems (harmful levels of drinking) among young military personnel are three times as common as among young civilians; the long-term suicide rate among young ex-forces personnel is also three times as high," Forces Watch added.