Tory plans to block online porn could breach EU law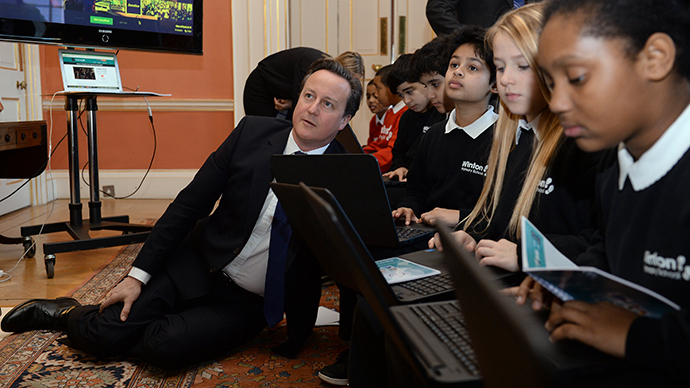 Prime Minister David Cameron's plans to automatically block online pornography may soon be made illegal under EU law, a leaked memo has revealed.
Cameron proposes to introduce legislation forcing internet service providers (ISPs) to enact filters which block adult material by default unless customers "opt-out" – a scheme critics have described as censorship.
Major ISP Sky broadband and public Wi-Fi provider Friendly WiFi already have automatic blocks in place on their service.
A leaked policy document from Brussels, dated May 17, suggests the EU will put an end to both existing and proposed parental controls in a move guaranteed to rile growing anti-EU sentiment in the Conservative Party.
The memo, which was seen by the Sunday Times, proposes that content filters should only be allowed when the "end-user" has agreed to them and if they have the "possibility to withdraw consent at any time."
READ MORE: State censorship: Tory minister slams Home Sec's plan to sanitize UK TV shows
READ MORE: 'Web-sharing censored!' Activists unite to 'Save the Link' from restrictive laws
READ MORE: Freedom of expression 'in danger' as Talk Talk blocks online porn
Hamish MacLeod, chairman of Mobile Broadband Group – a lobby group which represents Vodafone, Three and EE among others – cautioned it was wrong to give children responsibility for filtering content.
He said: "This will undermine the government's family friendly policy for the internet. Anybody can buy a pre-pay phone so are we seriously saying that children will be given the responsibility to ask for parental controls to be imposed?"
John Carr, a government adviser on child internet safety, said children's organizations had been campaigning for the new law.
He said: "The risk is that a major plank of the UK's approach to online child protection will be destroyed at a stroke.
"The prime minister and children's organizations have been campaigning for it, and the industry have been willing to do it. It seems incredible that an obscure measure from Brussels could bring this to a halt."
Speaking in July 2013, Cameron called for parents to take an active role in setting internet filters in their households.
He said: "We need good filters that are preselected to be on, pre-ticked unless an adult turns them off, and we need parents aware and engaged in the setting of those filters."
Cameron's proposed measures have strong support within the Conservative Party.
The Conservative's 2015 manifesto pledged to "stop children's exposure to harmful sexualized content online, by requiring age verification for access to all sites containing pornographic material and age-rating for all music videos."
Tory MP Claire Perry, an outspoken advocate for more extensive parental controls, called for schools to ban mobile phones and for parents to take away online devices in order to protect children.
Critics describe the proposed legislation as censorship and an attack on freedom of speech.
Jerry Barnett, CEO of protest group Sex & Censorship, told Wired magazine this month that politicians could use the cover of "protecting children from porn" in order to introduce internet censorship.
"This should worry anyone who cares about online free expression," he added.
You can share this story on social media: