​British security contractor killed in Kabul bombing identified
Published time: 19 May, 2015 16:01
Edited time: 19 May, 2015 16:09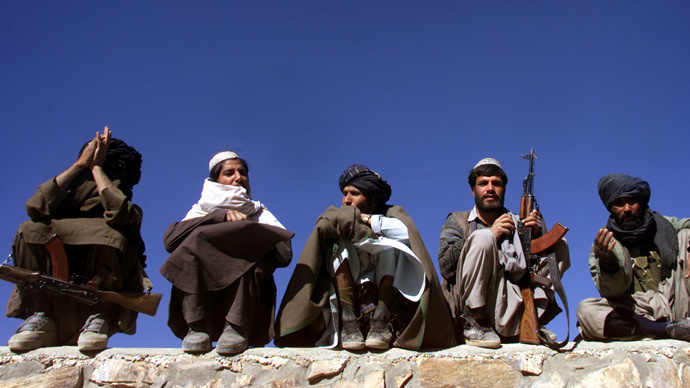 A British man who was among three victims killed in a suicide bombing attack in Kabul, Afghanistan, has been identified as Michael Hampshire by the Foreign Office.
A security contractor from Huddersfield, Hampshire was killed after a Taliban fighter drove a car into the convoy he was trying to protect outside the Afghan capital's airport.
The car was on its way to a NATO military installation nearby, a police spokesman told news agencies.
READ MORE: Sorry, what? Afghan president says time to apologize to Taliban
The "devastating" explosion that took place at around 9am on Sunday killed two teenage girls who were believed to be passers-by.
It also left 19 people badly wounded, eight of which were woman and three of which were children.
The loud blast from the explosion could be heard several miles away, from where a white plume of smoke could also be seen.
Rescuers rushed to the cordoned off scene and carried the wounded civilians to a safety zone for treatment.
The European Union's foreign policy chief, Fedrica Mogherini, confirmed that Hampshire had been part of the mission's close protection team.
Reaction to Michael Hampshire's death here in Golcar. Cllr Andrew Marchington says "we cannot let terrorists rule our lives"

— Daragh Corcoran (@DaraghCorcoran) May 19, 2015
Tributes have been paid to a West Yorkshire man Michael Hampshire who has been killed in a terrorist attack in Afghanistan.

— BBC Look North (@BBCLookNorth) May 19, 2015
Foreign Secretary Phillip Hammond condemned the attack.
"This is the second attack in a matter of days for which the Taliban have claimed responsibility and I strongly condemn their cowardly actions," he said.
Hammond said the attacks should not prevent the people of Afghanistan from "working towards a peaceful future."
Hammond said Hampshire's family "has been informed" and his thoughts "are with them at this incredibly difficult time."
#HeartNews Huddersfield man Michael Hampshire killed in Afghanistan http://t.co/lWZ6GWXeFYpic.twitter.com/DzrrPpFWAQ

— Heart Yorkshire News (@HeartYorkNews) May 19, 2015
In a statement released by the Foreign Office, Hampshire's family said: "No words can explain what we are going through at this time and we will miss Michael dearly.
READ MORE: 6 dead after blast near Finance Ministry rocks Afghan capital
"We would like to take this opportunity to thank people for the messages we have received but would now like, as a family, to grieve for Michael in peace."
A Taliban spokesman claimed responsibility for the attack in a statement released on Twitter.
The group, which has been at war in Afghanistan for over 10 years, launched an offensive in April.
They also claimed responsibility for an attack on a Kabul guesthouse last Wednesday that left 14 people dead, including five Afghans and nine foreigners.