Suicide rate among British men 'highest since 2001'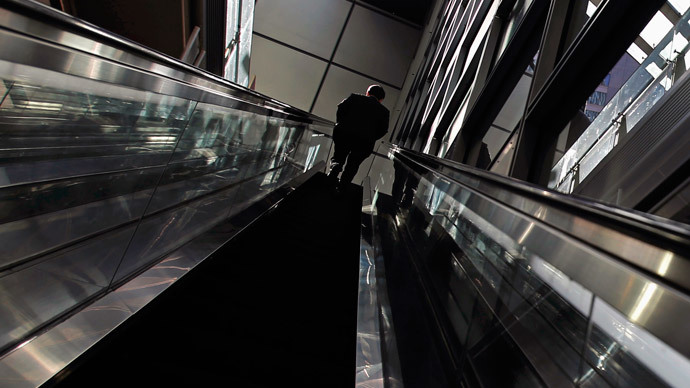 The male suicide rate is at its highest in more than a decade with men accounting for 78 percent of all UK suicides in 2013, according to new figures. The recession and the stigma of depression are thought to be responsible for the rise.
Overall the number of British people aged 15 and over committing suicide rose by 4 percent in 2013, figures from the Office for National Statistics revealed.
The suicide rate for middle-aged men has now reached its highest level for more than 30 years. The highest rate was among men aged 45 to 59, with 25.1 deaths per 100,000 – the highest for that age group since 1981.
The male suicide rate was more than three times higher than for females in 2013, with 19 male deaths per 100,000 – the highest since 2001.
There was a downward trend in the suicide rate between 1981 and 2007, but since then there has been a steady increase.
North East England had the highest suicide rate in England, with 13.8 deaths per 100,000, while London had the lowest at 7.9 per 100,000.
"Since 2007, the female rate stayed relatively constant while the male rate increased significantly," the ONS report states.
READ MORE:Welsh suicide rates soar: 3 times higher than road accident deaths
According to the report, research suggests "the recent recession in the UK could be an influencing factor in the increase in suicides," adding that "areas with greater rises in unemployment had also experienced higher rises in male suicides."
In contrast, men aged 15 to 29 were the only age group to record a decline in suicide rates in 2013 to 12.5 deaths per 100,000, compared to 13.6 in 2012.
Chief executive of the mental health charity SANE, Marjorie Wallace, said: "It is really shocking that men who are or could be in their prime of life should feel driven to such a state of hopelessness and despair for the future that they are taking their own lives.
"SANE's own research shows that many suicides could be prevented, if people were able to talk more openly about their feelings and felt able to seek therapy or other help."
READ MORE:Mental health care severely underfunded
The staggering figures among men could be due to the "stigma" attached to depression, and that men are less likely to seek help for their condition.
Professor Louis Appleby, chair of the National Suicide Prevention Advisory Group in England, told the Guardian: "Fifteen years ago the rates among men under 35 were brought down sharply by tackling these problems and we need to use this success to address the problems of the new highest risk group, middle aged men. We need to make it easier for men to find help without shame or stigma."
You can share this story on social media: