​Oxbridge & privately-educated MPs likely to prevail in election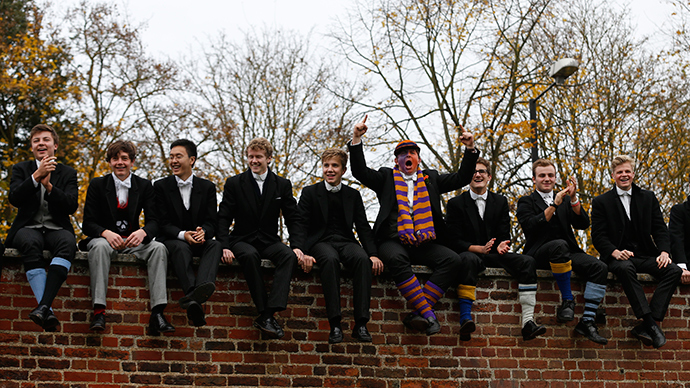 MPs victorious after the next general election are "unlikely to reflect any more social diversity than the current crop of MPs," with nearly a third of potentially successful candidates educated at private school, research shows.
According to a report from the Sutton Trust, which analyses the backgrounds of current and future MPs, 19 percent of candidates with a reasonable chance of being elected attended either Oxford or Cambridge, compared with only 1 percent of the total population.
The report, called Parliamentary Privilege, found that nearly 50 percent of Conservative candidates were privately educated, whereas only 19 percent of Labour's and 36 percent of UKIP's had been to independent schools.
The figures roughly mirror the backgrounds of current MPs, where 33 percent were privately educated. In the current parliament 52 percent of Conservatives, 10 percent of Labour and 41 percent of Liberal Democrats were all privately educated.
The report called the findings "problematic."
"As previously, the chances of being in a position to be elected to government are much higher for those few people fortunate enough to have attended fee-paying independent schools."
READ MORE:Recruiting girls into Army Cadets 'could cut teen pregnancy rates' – UK education minister
"This is problematic both in that it is symptomatic of low levels of social mobility in Britain, and in its implications for the diversity of experience within parliament."
The Sutton Trust also examined the universities attended by candidates and MPs. Some 18 and of Labour and 28 percent Conservative candidates attended Oxbridge, compared with only one UKIP candidate.
This is only marginally lower that the current parliament, of which 17 percent of Labour, 32 percent of Conservative and 41 percent of Liberal Democrat MPs attended the UK's most distinguished educational institutions.
The majority of candidates, 55 percent, went to a Russell Group university, but the report says this is "less of a concern" as universities in that group "accept reasonable proportions of less privileged students."
Only 10 percent of parliamentary candidates did not have a degree, which compared to the national population figure of 62 percent.
READ MORE:Police teach anti-extremism classes in UK schools, fight radicalisation
The report said that while it was "reasonable to expect political leaders to be generally more highly educated than the average," the only way to run an effective government would be for MPs to have a collectively wider experience of life.
"If the majority of MPs all share the same experience of education at an elite university, this considerably narrows the diversity of perspectives within government.
"This is particularly applicable to the high proportion of Oxbridge alumni," it adds.
"Oxford and Cambridge accept relatively few students from disadvantaged backgrounds. These universities, as our recent report on graduate outcomes has shown, confer particularly strong career advantages on graduates."
The report also examined politicians' previous careers and found that 40 percent of MPs and candidates had already had a job in politics prior to election, meaning the "rise of the political class" was "not quite as dominant as some might fear."
You can share this story on social media: