​Nazi cows? Farmer forced to cull aggressive, genetically-engineered 'Third Reich' herd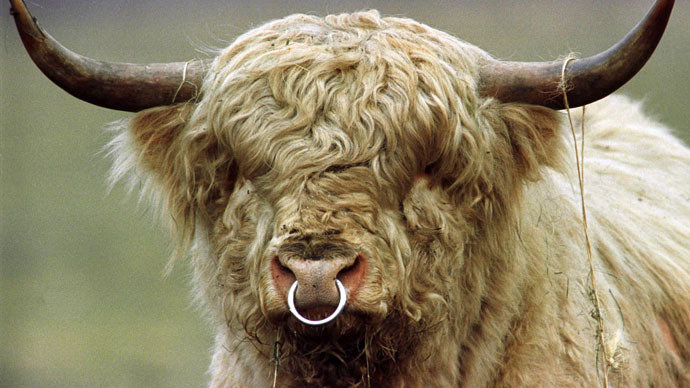 A British farmer who farmed the only herd of Nazi-engineered cows in the country has been forced to cull the number of his herd after they became too aggressive and tried to attack his staff.
The cows were imported in 2009 by farmer Derek Gow, who bought 13 genetically engineered cows and bulls to his farm in Boradwoodwidger, west Devon.
Known as Hecker super cows, the breed of cattle were developed in the 1920s and 30s by German zoologists Hienz and Lutz Heck, who were commissioned by the Nazis to create a special breed of cow based on an ancient species of wild bull called aurochs.
The pair used the descendants of the wild cows to extract "wild" genes from their genomes and breed them with regular livestock, creating fearsome-looking, muscular cattle with lethal horns
READ MORE:Hitler's henchman: From Nazi soldier to Irish farmer
The experiment proved incredibly successful and the cattle were eventually used in Nazi propaganda. Large numbers of the cows were destroyed after the defeat of Nazism, but 13 of the few that remained were transported to Gow's farm in 2009.
It was the first time this species of cow, which became extinct in the 17th century, had set foot on British soil since Roman times.
But Gow has been forced to cull seven of the cows due to their increasingly aggressive nature.
READ MORE:'Gay' bull gets #SaveBenjy campaign for slaughterhouse reprieve
"We have had to cut our herd down to six because some of them were incredibly aggressive and we just couldn't handle them," Gow said.
"The ones we had to get rid of would just attack you any chance they could. They would try to kill anyone. Dealing with that was not a lot of fun at all," he added.
Gow said the rare breed were "by far and away the most aggressive animals I have ever worked with."
He hopes that now his herd has been reduced down to six, he can begin breeding the animals for meat.
READ MORE:Louisiana village bans pit bulls & Rottweilers, orders to collect them for disposal by Dec. 1
"I'm not sure how appealing Third Reich sausages would be," he joked, adding that they tasted like venison. "But they are very tasty."
He also called the Nazi's selective breeding program "truly primeval."
"Importing the cattle has been an interesting project for us – they have such an unusual history. There was a thinking around that time that you could selectively breed animals for Aryan characteristics, which were rooted in runes, folklore and legend," he said.
READ MORE:Potentially dangerous asteroid to fly by Earth on January 26
While the cattle have little commercial value, Gow said they were important for conservation, as the cattle produced their own body weight in highly fertile dung each year.
Gow said even after his battles with the cows' aggressive nature, he did not regret the project.
"Despite these problems, I have no regrets at all. It has been a good thing to do and the history of them is fascinating."
You can share this story on social media: