Louisiana village bans pit bulls & Rottweilers, orders to collect them for disposal by Dec. 1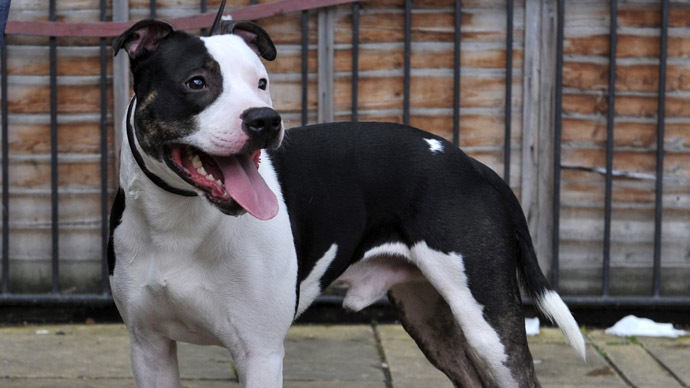 Pit bull terriers and Rottweilers were banned in Moreauville, Louisiana on October 13, as the village ordered all dogs of those breeds gone by December 1, threatening confiscation and "further disposition" of the dog should residents ignore the ban.
One young woman in town, O'Hara Owens, is fighting to keep her pit bull, Zeus. Due to severe neck disabilities, Owens is required to wear a halo brace and use a wheelchair. She said Zeus, her "therapy dog," is a beloved member of the family.
"If anything ever happened to him...I probably would just shut down," she told KALB.
Pit bull terriers and Rottweilers were deemed too dangerous by Moreauville aldermen, who banned the breeds last month.
Zeus has never received complaints or bitten anyone, according to Owens' family.
"[Zeus'] breed is not vicious. It's the owner. It is the way that you raise them," Owens said.
Owens' parents tried to fight the ordinance, but they were overpowered.
"And I had asked the question, 'Well what if I don't give you my dog?'" asked Joanna Armand, O'Hara's mother. She says she was told "the dog would be disposed of and we would be fined."
Village Alderman Penn Lemoine said the ordinance materialized after several residents had expressed a need for action.
"We had several residents that were complaining about not being able to walk along the neighborhoods because these dogs were basically running along town," Lemoine told KALB.
Lemoine said there had been some dog attacks, but he didn't "think they're documented."
The alderman would not clearly state whether captured dogs would be killed upon December 1.
"If that's what the ordinance says, then that's what it says," he said.
Lemoine said he owned a German shepherd, but he considered pit bulls and Rottweilers particularly "vicious."
"They're going to have to take him from my cold, dead hands before they get a hold of him," Owens said. Her family has started a petition to challenge the ordinance.
You can share this story on social media: