​Muzzled: New UK laws punish owners of 'dangerous' dogs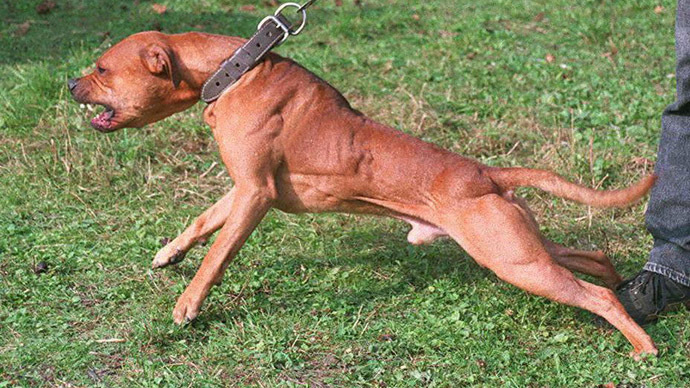 Owners of dangerous dogs could face fines of up to £20,000 under new laws designed to prevent dog attacks.The laws, which will come into effect next week, will also mean animals deemed 'dangerous' must be muzzled or microchipped.
Owners could also face up to 14 years in prison if their dog fatally attacks someone, and 5 years if a dog inflicts serious injury.
Changes in the law follow new rules allowing owners to be prosecuted if their animals attack other pets on private property.
According to government statistics, 8 adults and 13 children have died from dangerous dog attacks since 2005, while last year more than 6,000 people were hospitalized by animal attacks.
Animal Welfare Minister Lord de Mauley said the new rules showed the government was taking "tough action" against "negligent owners."
"Dog attacks are devastating for victims and their families, which is why we are taking tough action against those who allow them to happen," he said.
"Police and local authorities will now have more powers to demand that irresponsible dog owners take steps to prevent attacks before they occur. This is on top of the tougher prison sentences we introduced earlier this year for owners who allow their dogs to attack people and assistance dogs."
Last year, hundreds of dogs deemed 'dangerous' were destroyed after being seized by police.
Under the Dangerous Dogs Act 1991, certain animals commonly used for fighting are not permitted to be bred in the UK. They include the Pit Bull Terrier, the Japanese Tosa and the Dogo Argentino.
Other breeds of dangerous dog must be registered, insured, neutered and implanted with a microchip under the act.
"Royal Mail campaigned for changes to the Dangerous Dog Act to ensure our postmen and women are protected when they enter private property including a customer's garden," said Royal Mail Director of Safety, Health, Wellbeing and Sustainability, Shaun Davis.
"We are pleased that these further changes will help police forces and local authorities use their new legal powers to prevent dog attacks."
You can share this story on social media: