Recreating Rover: Clone firm lures UK dog owners with $70,000 discount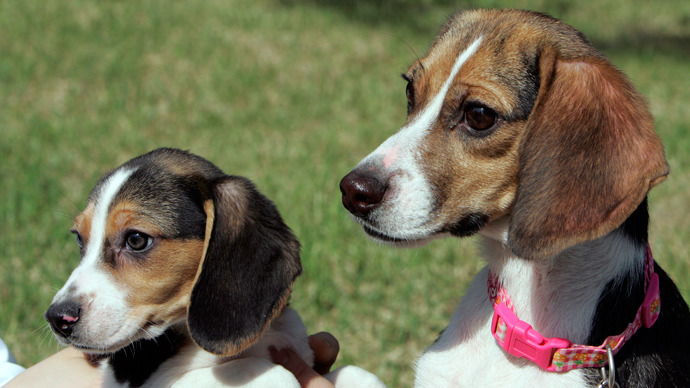 So you're living in the UK and dream of giving your dog's genes a chance to live on in a cloned body? One South Korean firm is willing to offer a 70 per cent discount if you pose for the cameras and are not expecting them to copy the personality too.
The firm, Sooam Biotech, has been commercially cloning pets for years, with the majority of its customers coming from the US. The task is currently priced at $100,000, but the winner will receive a considerable slash from that tag. Contenders are encouraged to send a 500-word essay along with photos, videos of up to 5 minutes, and other material explaining why their dog should be cloned.
There are no restrictions on the breed, sex, size or age of the dog, but the winner must be prepared for the media appearances that would come into his or her life, along with the furry clone. Submissions are accepted until July 1.
The cloning technology itself is following the well-established routine. Sooam researchers will extract DNA from a viable skin cell taken from the dog and implant it into another dog's egg cell, which had been cleared of DNA beforehand. The resulting embryo will then be implanted into a surrogate mother, which will give birth to a cloned puppy some two months later.
The South Korean firm is headed by controversial researcher Hwang Woo-suk, who rose to notoriety after falsifying research data in his 2004 study of human embryotic stem cells. Sooam was among the pioneers of dog cloning and also successfully cloned other canines, such as wolves and coyotes. Last year it announced its plans to recreate a woolly mammoth by extracting the extinct animal's DNA from frozen samples and incubating an embryo in an elephant surrogate mother.
Pet cloning remains an ethically-controversial and niche business. Critics say that rich people who spend thousands of dollars on cloning their pets should instead help animal shelters and adopt a new pet from one of those. There is also the implication that cloning firms are misleading their clients, because the technology can offer replication of the body, while the behavior of the cloned pet may differ markedly from that of the original.
"I think that personality is really what most people are looking to clone," John Woestendiek, a dog cloning investigator and author, told Live Science. "And I don't think personality is clone-able."
Pet cloning may enjoy high media attention, but the market for it is surprisingly small, according to BioArts International, a US-based company that outsourced pet cloning to Sooam Biotech before going out of business in 2009.
Just like Sooam in UK, BioArts promoted its services in America with a 2008 competition offering free cloning. It received 237 applications, the firm said, eventually awarding the privilege to a rescue dog which had reportedly found the last survivor of the 2001 terrorist attack in New York.

You can share this story on social media: