US senator's son charged with killing 21 dogs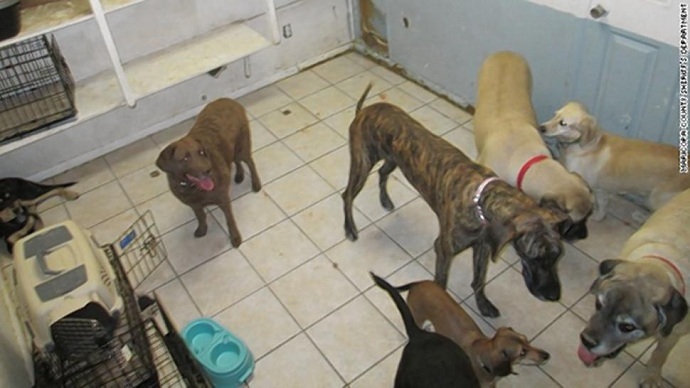 The son and daughter-in-law of an Arizona senator pleaded not guilty Thursday to multiple charges of animal cruelty, stemming from the deaths of 21 dogs at a Phoenix-area kennel that they were looking after in June.
Austin Flake, the 21-year-old son of Sen. Jeff Flake (R-Arizona), and his wife Logan, also 21, were taking care of the 28 dogs staying at Green Acres Dog Boarding in June. The facility is owned by Logan's parents, Todd and MaLeisa Hughes, who were on vacation when strategy struck.
Deputies from the Maricopa County Sheriff's Office were called to the kennel in Gilbert on June 21, where they found 20 dead dogs piled into a shed on the property. The investigators found that the canines had been crammed in a poorly ventilated 9-by-12-foot room for hours on end. The "slumber room" was cooled separately from the rest of the home. The animals died of heat exhaustion and suffocation, the New York Times reported.
"Owners claim the air conditioning was cut off after a dog chewed through some electrical wiring," Sheriff Joe Arpaio said in a statement two days later. "But it seems unreasonable that dogs could be healthy at 11PM at night and dead by 5:30am the next morning as the owners suggest. Even the veterinarian I met with today agrees that the timeline given by the owners and caretakers is highly suspect."
#Gilbert23 These people suffocated 24 dogs then piled them in a shed NO PLEA BARGAINS!! #Arizonapic.twitter.com/s6CwlsCQFQ

— TKrypt (@TKrypt) October 19, 2014
The Flakes attempted to save the dogs they found still alive at 5:30 a.m. by hosing and icing them down, but failed to call for emergency assistance before the dogs died, the statement noted.
The Hughes claim that a dog clawed through the drywall in the slumber room and chewed through the air conditioning wire. The two couples' lawyers released electric company records showing a dip in energy consumption at the home corresponding to the time the dogs died that they contend was consistent with the size and type of the air-conditioner in the room, the Times reported.
"We're not so sure that's what happened," Arpaio said in a July statement. "Also these air flow experts suspect that even if the air conditioning system to that small room was functioning the day these dogs died, the air flow in that size room with so many large dogs inside it may not have been sufficient to keep those dogs alive."
In mid-October, the Flakes were each charged with 21 felony counts and seven misdemeanor counts of cruelty to animals. The Hughes were indicted on 22 felony counts and 7 misdemeanor counts of cruelty to animals, and one felony count of fraudulent schemes and artifices, according to the sheriff's office. The older couple pleaded not guilty in court at the end of that month.
On Thursday, the young couple professed their innocence to the judge.
MUG SHOTS: Austin and Logan Flake plead not guilty to charges of animal cruelty http://t.co/FoZHYEA3YK#abc15pic.twitter.com/T2QBIABnf9

— ABC15 Arizona (@abc15) November 13, 2014
"These are two innocent people who have been going through a nightmare that's really unfair when all the facts have not come out," said Dennis I. Wilenchik, the Flakes' lawyer. He also condemned the sheriff's department's investigation as "heavy on publicity but devoid of any evidence of criminal wrongdoing," according to the Times.
"We like to express our sincere sympathy to families of owners of dogs in the tragic incident," Wilenchik said in a statement outside the court. "However tragic, we're going to prove that it was just that ‒ an accident."
Austin & Logan Flake plead not guilty to animal abuse charges. Ordered to not have custody of pets other than theirs. pic.twitter.com/EvNpSEGLsZ

— Andrew Hasbun (@andrewfox10) November 13, 2014
One of the owners, Valerie Collins ‒ who lost two dogs, Carson and Daisy ‒ stood by the press conference and asked the Flakes why they had not fed her dogs, to which she received no response, the Arizona Republic reported.
"It was really hard to see him in person and still not get a straight answer," Collins said. "I just want to look in someone's eyes and get the whole story out of them. I know that's not going to happen. I know it's just going to be a lie… (or) a cover-up."
"It was just sick and it was horrific," she added. "I was in town. They could have called me. I could have picked them up - I could have taken them to a vet."
More on @azfamily: RT @JillGalus: Malesia Hughes & Jessie Hughes plead not guilty to animal cruelty pic.twitter.com/XnPxXNMvL8#Gilbert23

— Tyson Milanovich (@Tyson3TV) October 29, 2014
"We were deceived from the moment we dropped our dogs off here, and I believe they were con artists," Shannon Gillette, whose two golden retrievers died at the facility, told KTVK. "They were our family, and they were killed by these people."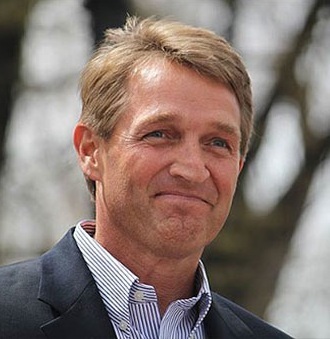 "[Remington and Valor] were supposed to be my security blanket" while her husband serves in the military, Heather Bennett said. "They were supposed to be my protectors. And now I've got nothing."
Senator Flake has largely kept quiet about his son's case. "This is simply the next step in the legal process, and I have confidence in that process," he said in a brief statement.
Arpaio said that this case, known as the Gilbert 23, was one of the toughest and most complex his office has investigated. It comprised of more than 2,500 documents and 12 discs of materials, making it the largest animal cruelty case submittal in recent memory, his officenoted.
"This better set an example that no one is immune when they violate those animal cruelty laws," Arpaio told KTVK.
A group of the dog owners filed a civil lawsuit in mid-September against the Hughes and the Flakes, accusing them of fraud and neglect, Reuters reported. That case claims the dogs were confined in cramped quarters and faced "neglect, mistreatment, physical injury and psychological abuse."
The Flakes are scheduled to be back in court on Jan. 2, while the owners are scheduled to return to court on Dec. 17. No court date has been set in the lawsuit.
You can share this story on social media: