​French offer boxed cure for anti-Semitism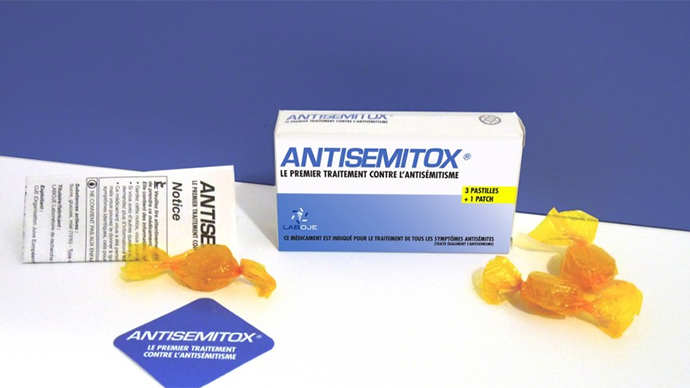 A Jewish-French organization is using humor to combat the recent surge of anti-Semitism in the country. The group has begun distributing boxes, labeled "Antisémitox, the first treatment against anti-Semitism."
The boxes contain three honey candies, several detox patches, and the text of a law outlining the penalties faced by those who publicly express anti-Semitic views, reports TV5 Monde. The group has manufactured 10,000 such boxes.
"The honey candies contained in the packages work to immediately soften the anti-Semitic words and behavior that are the first symptoms," the organizers of the campaign wrote in a statement.
"These include insults, curses, aggressive behavior, hallucinations, and quenelles [a Nazi-style salute popularized by an anti-Semitic comedian.]"
Each box is being sold for 5 euros and all proceeds will go to finance "the struggle against anti-Semitism," the Organization of Jewish Europeans, the group behind the stunt, has said.
OJE head, Jean-Claude Zaret explained that the organization wanted to use comedy to stand up for the Jewish community.
"We talk a lot about Jewish humor, so why not use it to protect the Jewish community?" he said.
Frank Tapiro, one of the campaign's organizer and former advisor to Nicolas Sarkozy, told Le Parisien newspaper that the organization wanted to "do something original to denounce anti-Semitism."
Last week France's Interior Minister Bernard Cazeneuve said that "anti-Semitic acts and threats have increased by well over 100 percent in the first 10 months of the year."
According to the Jewish Agency for Israel in France, the emigration of Jews to Israel has more than doubled since the start of the year.