Anti-Semitic attacks soar across Europe amid Israel's operation in Gaza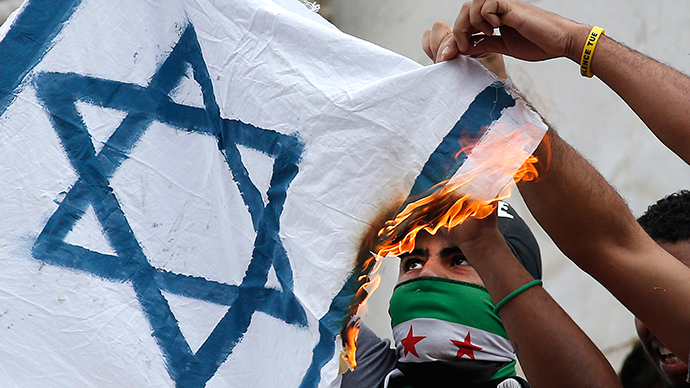 Jewish communities around the world are getting to grips with a recent upswing in anti-Semitic incidents after the latest Israeli-Hamas conflict. These have included physical assaults, firebombing of synagogues and calls for violence against Israelis.
Organizations such as Britain's Community Security Trust are cataloging occurrences and attempting to make some sort of sense out of the data. Meanwhile, the American Agudath Israel organization linked the violence to the steady rise in anti-Semitic incidents in Europe over the last years, many of which have been connected to Muslim and Arab immigrants, recently issued a statement encapsulating the view of many Jews, the Jerusalem Post reports.
"The pretense that these attacks are not anti-Semitic, but merely a reaction to current events in the Middle East, is cynical and decidedly false. When a Paris mob besieges and throws bricks at a synagogue with 200 congregants inside, it is anti-Semitism," the group said.
Powerful Newsweek cover on the resurgence of anti-semitism in Europe. Depressing. http://t.co/fFJwpP0Kahpic.twitter.com/v8t3uZPF9r

— Rachel Savage (@rachelmsavage) July 30, 2014
According to a 2013 study by the European Union's Fundamental Rights Agency, one-third of European Jews polled refrained from wearing religious garb or Jewish symbols out of fear, and 23 percent avoided attending Jewish events or going to Jewish venues. Almost one-third of Jews polled in several countries said they were mulling emigration as a response to heightened anti-Jewish sentiment.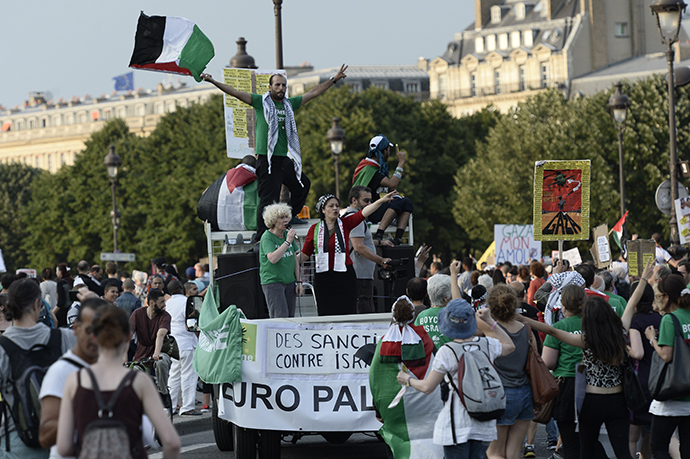 UK seeing 50 percent rise in hate crimes against Jews
The UK is no exception, with police and community groups noting a 50 percent increase in anti-Semitic acts over the past month.
Bomb threats, vandalized synagogues, racist banners and assaults are just some of the anti-Semitic hate crimes plaguing the UK since the Israel-Gaza crisis began. Again, a large proportion of this discriminatory abuse is being carried out by young Muslim males, according to the Sunday Times.
According to the Community Security Trust's officials, a charity that monitors and fights anti-Semitism throughout Britain, roughly 100 hate crimes have occurred in the UK in the past month alone – over double the number the organization would usually expect.
"This is well over double what we would normally expect to see and most of the incidents are linked to what's going on in Israel and Gaza," a CST spokesman said. Britain has not seen such a stark escalation in anti-Semitic hate crimes since the Gaza War in 2009, in which almost 1,400 Palestinians lost their lives, he added.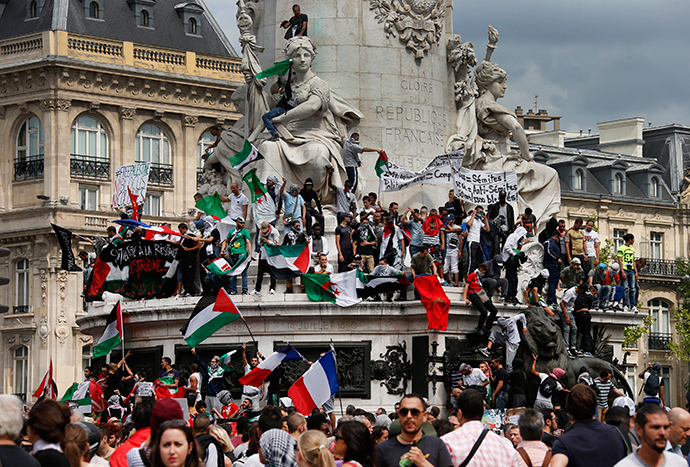 Germany, France and Italy all rocked by attacks this week
Three arsonists threw Molotov cocktails at the Bergische Synagogue in the western German town of Wuppertal early Tuesday morning in an attempt to burn it down, the Westdeutsche Allgemeine Zeitung daily reports. Police said it found broken bottles by the entrance to the doors of the synagogue and arrested an 18-year-old man in connection with the incident.
No one was injured in the attack and there was little visible damage on the outside of the building.
Meanwhile, Italian police are investigating a spate of anti-Jewish and anti-Israeli graffiti in Rome. Dozens of swastikas, slogans and posters were found spray-painted or plastered on walls and shop windows on Monday in various parts of the city.
They included slogans such as "Dirty Jews," "Jews – your end is near," "Out with Zionists," and "Israel executioner." Jewish leaders, along with local and state officials, strongly condemned the vandalism.
MT @MarcoCSermoneta: In Rome, yesterday: "dirty Jews", "Jews your end is near" and swastikas. #antisemitismpic.twitter.com/Mi6vJnB7Z4 | #Israel

— Schillaci (@Shaqton) July 29, 2014
Rome Mayor Ignazio Marino called the affair shameful and "an insult to all Romans." He expressed solidarity with the Jewish community, saying "Rome wants and must be the capital of dialogue and peace, and not the terrain of barbarism."
Police in Toulouse have arrested a man who threw three firebombs at a Jewish community center. The man, who has not been named, hurled two firebombs at the building and the other at officers guarding the center.
The incident happened Saturday, one hour after the conclusion of a demonstration against Israel's military operation in Gaza, AFP reported. None of the Molotov cocktails managed to ignite. The attacker also hurled stones at the Espace du Judaisme center, which contains a synagogue, a library and a lecture room.
Anti-Israel façade is falling off: should be easy to see that this attack in Toulouse is anti-Semitism http://t.co/Zhho7QDwiG

— AJC Global (@AJCGlobal) July 28, 2014
"Our lives have become absurd," Nicole Yardeni, the head of the local branch of the CRIF umbrella group of French Jewish communities. "We endure daily insults and get spat on, a general feeling of anxiety because a part of the population has a poisoned mind that makes it their mission to hurt Jews, regardless of Gaza."
On Sunday, around 2,000 people, the majority who were Jews, held a rally in Marseille to express their solidarity with Israel and its ongoing campaign against Hamas in Gaza.
Toulouse has experienced anti-Semitism in the past. In 2012 a gunman has shot dead a teacher and three children at a Jewish school in the city.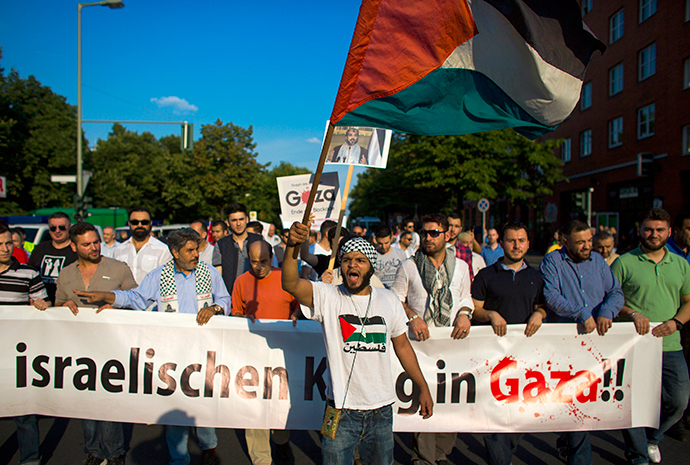 Israel's domestic policy leading to rise in anti-Semitism abroad
There was a spike in the number of crimes committed against Israeli's and Jews and other manifestations of racial hatred as soon as Operation Protective Edge got under way July 8 to suppress Hamas in Gaza. However, the rise in anti-Semitism is nothing new, with the Jerusalem Post saying a rise in incidents also occurred during Operation Pillar of Defense in 2012 and Operation Cast Lead in 2009.
OPINION by @drshujashafi : Supporting #Gaza can never be an excuse for #antiSemitism: http://t.co/HQEiSsUOWu@MuslimCouncil

— Jewish News (@JewishNewsUK) July 30, 2014
The year following Operation Cast Lead was the "worst since monitoring of anti-Semitic manifestations began two decades ago, in terms of both major anti-Semitic violence and the hostile atmosphere generated worldwide by the mass demonstrations and verbal and visual expressions against Israel and the Jews," according to experts at Tel Aviv University's Kantor Center for the Study of Contemporary European Jewry.
You can share this story on social media: