At least 3 dead in shooting near Jewish Museum in Brussels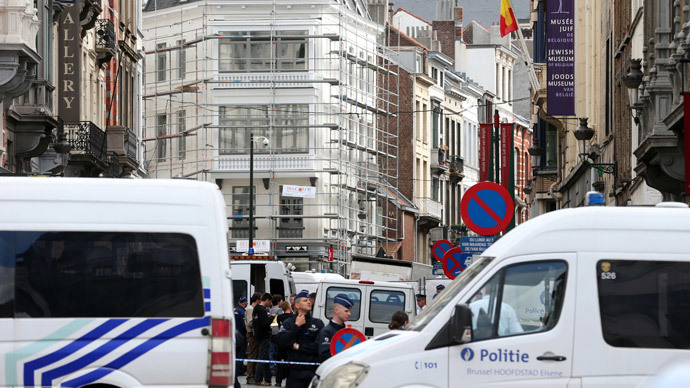 Three people were killed in a shooting near the Jewish Museum in Brussels, which the Belgian authorities believe may be "an anti-Semitic terrorist act." Police have detained a suspect.
Two women and a man died on site as the gunman opened fire at a group of people in front of the Jewish Museum in the central Sablon area, Belgian broadcaster RTBF said. Another person was seriously injured in the attack, the emergency services said.
According to RTBF, the shooting broke out at about 3:50pm local time and took place inside as well as outside the museum.
"According to the information we have at the moment, it was a solitary shooter and it seems to have happened inside the museum," Pierre Meys, Brussels fire brigade spokesman, told French channel BFM TV.
Witnesses at the scene confirmed hearing shots coming from the inside of the building. They then saw a man running away and getting into the car that fled.
According to the preliminary investigation, a black Audi drove up to the Museum, a shooter went inside and fired shots.
But people at the scene were able to write down the license plate of the vehicle and give a clear physical description of the offender, De Standaard reports.
The driver of the car was arrested a few hours after the shooting, the Prosecutor's Office confirmed. He was detained and interrogated as a suspect in the case.

However, the prosecutors now say that there was another suspected attacker, who left the scene on foot and is still unidentified, RIA-Novosti news agency reports.

The investigators hope footage from CCTV cameras, will provide them with more information on the perpetrators.
According to Le Soir newspaper, 12 people were treated for shock immediately after the incident.
Belgian Deputy Prime Minister, Didier Reynders, who was one of the first to arrive at the scene, said he was shocked by the attack.
"I am shocked by the murders committed at the Jewish Museum, I am thinking of the victims. I saw there and their families," Reynders tweeted.
Choqué par les meurtres commis au musée juif, je pense aux victimes que j'ai vues sur place et à leurs familles

— didier reynders (@dreynders) May 24, 2014
As she was heading to the scene, Belgian Interior Minister Joëlle Milquet said the attack was "most likely an anti-Semitic terrorist act."
The president of the Belgian League against Anti-Semitism (LBCA), Joel Rubinfeld, also believes that the incident was a "terrorist act," with the perpetrator "deliberately" targeting the Jewish museum.
"Unfortunately, that's what happens when anti-Semitic rhetoric is on the rise," Rubinfeld told Le Soir paper. "This is the inevitable result of a climate, which produces hatred."
Belgian Prime Minister, Elio Di Rupo, expressed his condolences and support for the families of those who died.
Geschokt door de gebeurtenissen in Brussel. Mijn oprechte medeleven en steun aan de families en naasten van de slachtoffers

— Elio Di Rupo (@eliodirupo) May 24, 2014
You can share this story on social media: