Palestinian president calls Holocaust 'most heinous crime' in modern history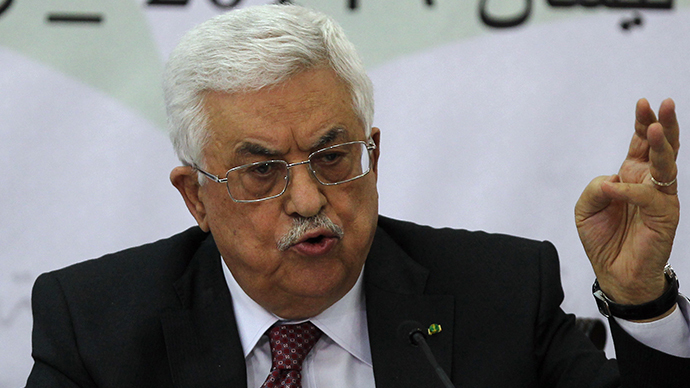 Palestinian President Mahmoud Abbas said the Holocaust was the "most heinous crime in the modern era," offering his sympathies to the "families of the victims and the innocent people who were killed by the Nazis, including the Jews and others."
The message, delivered in Arabic and English, was timed to coincide with Israel's annual remembrance day for the mass murder of 6 million Jews during World War II.
The Holocaust, he said, represents the "concept of ethnic discrimination and racism which the Palestinians strongly reject and act against."
Abbas further called on the international community to stamp out racism and inequality "to bring justice and equity to the oppressed people wherever they are."
"The Palestinian people are suffering from injustice, oppression and denied freedom and peace. We are the first to demand to lift the injustice and racism that befell on people subjected to such crimes," Abbas said.
Abbas also implored Israel to pursue a peace deal and allow Palestinians to have an independent state, just days after faltering peace talks collapsed.
The Palestinian leader had promised to issue such a statement at a meeting last week in Ramallah with Michael Schneier, former vice-president of the World Jewish Congress and head of the Foundation for Ethnic Understanding, Haaretz reports.
"I heard what was said about Abbas' attitude toward the Holocaust, but was surprised to hear how clear he was on this issue when meeting me," Schneier told the daily.
'It's either us or them'
Meanwhile, Israeli Prime Minister Benjamin Netanyahu accused Abbas of forming an alliance with a "Holocaust-denying terrorist organization that wants to kill more Jews."
"Hamas denies the Holocaust while trying to create another Holocaust by destroying Israel," Netanyahu said in public remarks at the weekly meeting of his cabinet, the Jerusalem Post reports. "It is with this Hamas that Abu Mazen chose to create an alliance last week…I hope he will escape this covenant and return to the path of real peace."
A spokesman told Reuters Netanyahu's comments were not a direct response to Abbas's statement, but the Israeli leader was aware of what the Palestinian president had said.
On Wednesday, Hamas and Fatah leaders signed a reconciliation agreement following seven years of division. Under the deal, Abbas will form an interim unity government within five weeks, followed by elections in six months. The future of Hamas's security forces, which were formed in 2007 after the Islamist group first won elections in the Gaza Strip, then forced out Fatah's security forces, remains unclear.
Prior to the reconciliation, Netanyahu had said Abbas would have to choose between peace with Israel and peace with Hamas.
"You can have one but not the other. I hope he chooses peace; so far he hasn't done so," he said.
Several senior Israeli officials, including Foreign Minister Avigdor Lieberman and Strategic and Intelligence Affairs Minister Yuval Steinitz, have recently accused Abbas of being anti-Semitic and a Holocaust denier over his book, "The Other Side: the Secret Relationship Between Nazism and Zionism."
The book, based on Abbas' 1980s doctoral thesis from the University of Moscow, questioned the number of Jewish Holocaust victims and claimed cooperation between parts of the Zionist movement and Nazi Germany prior to the Holocaust. Abbas has since retracted those claims.
Many Arab leaders have refrained from making sweeping statements condemning the Holocaust even after striking peace accords with the Jewish state.
In September, Iranian President Hassan Rouhani acknowledged the Holocaust after years of denials by his predecessor, who had referred to it as a "taboo item" and a "fairy tale."
You can share this story on social media: