Himmler never mentioned Holocaust to wife despite her dislike of Jews - letters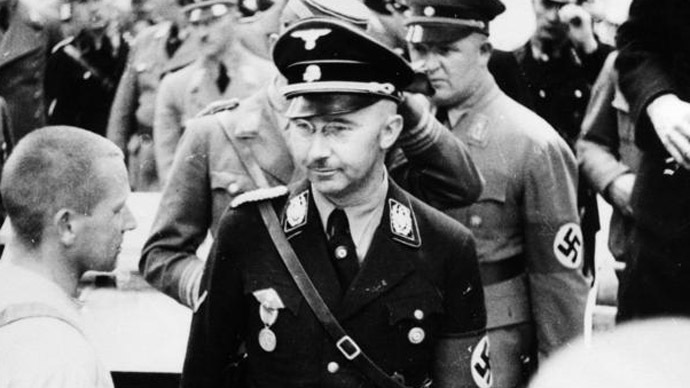 A cache of letters, photos, and diaries belonging to SS leader Heinrich Himmler reveals he never mentioned the Holocaust to his wife – though she apparently shared his hatred for Jews. A German newspaper published excerpts from the collection on Sunday.
The stash of documents is currently being held in a bank in Tel Aviv and has been authenticated by the German Federal Archives - considered to be one of the world's leading authorities on material from the period.
"I am traveling to Auschwitz. Kisses, your Heini," he wrote before setting off to Auschwitz, where he orchestrated the killing of 1.5 million people, mostly Jews.
The letters have been poured over by historians for three years in order to test their authenticity. German daily Die Welt published excerpts from the cache on Sunday.
"At first glance Himmler's letters, especially his early ones to his wife, revolve around mundane things. But they say much about the world of ideas and the self-image of an apparently unfeeling, self-righteous bureaucrat who became the pioneer and chief organizer of humanity's greatest crime - the Holocaust," an editorial in Die Welt reads.
"There was no word about the countless crimes in which he was involved as Reichsführer-SS. Not a word about the persecution and murder of approximately six million Jews. And barely a word about the ghettos, guarded by his SS and his police, and the death camps, which he also attended," it continues.
Both Himmler and his wife were anti-Semites who appeared to blame the Jews for the money-obsessed culture in Berlin.
"All this Jew business, when will this pack leave us so that we can enjoy our lives?" his wife wrote after the Reichskristallnacht pogroms, where Jewish businesses were smashed up under Himmler's direction.
His wife, Margaritte, admiringly described her husband as an evil man with a tough and rough heart.
"I am so lucky to have such an evil good man, who loves his evil wife as much as she loves him," she wrote.
Just a couple of weeks after the invasion of the Soviet Union - in which tens of millions of Soviet citizens died, as well as millions of Germans - Himmler wrote to his wife that he was sorry for missing their wedding anniversary.
"I am so sorry I missed our anniversary for the first time. There was lots going on in these days. The fighting is very hard for the SS," he wrote. But the letter was actually sent from his home in Bavaria - nowhere near the frontline.
The letters also reveal the pair's lurid and bizarre sexual fantasies. He often refers to himself as a "beast" and a "wild man," as well as "a good and wild Landsknecht" – a sort of mercenary soldier in 16th and 17th century Germany. He addresses her as his "small, sweet, beloved wife" and "beloved mummy." Margaritte wrote that her "back soul thinks only of the most impossible things."
The couple gave birth to a daughter named Gudrun in 1929. From late 1938, Himmler had an affair with his long-term secretary, Hedwig Potthast. Himmler killed himself in British custody on May 23, 1945, before he could be brought to trial.
Die Welt plans to continue to publish the documents, which were initially discovered by US army officers in one of Himmler's homes in the Bavarian Alps. It is believed that they were confiscated by US intelligence in order to be used at the Nuremberg Trials.
After Nuremberg, the collection of diaries, photos, and letters are thought to have stayed in private hands. They surfaced again in the early 1980s in Israel but did not receive much attention due to the controversy of the forged 'Hitler Diaries,' published by German magazine Stern and the Sunday Times in 1983.
They were then sold to the father of Israeli filmmaker Vanessa Lapa, whose documentary about Himmler will premiere at the Berlin Film Festival next month.
You can share this story on social media: