​President Abbas threatens to disband Palestinian Authority if Israeli talks fail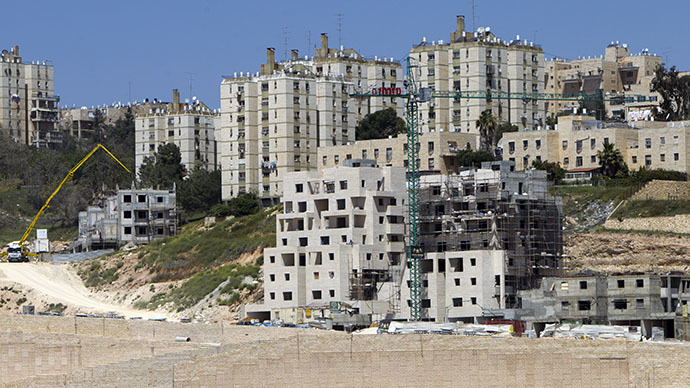 President Mahmoud Abbas has said he will disband the Palestinian Authority, forcing Israel to take over governance if bilateral talks fail. He also named the terms for the extension of negotiations with Israel past an April 29 deadline.
Israel will be left to govern a population of over 2.5 million in the Palestinian territories, taking charge of security issues, healthcare and the economy of the area, if talks fail, Abbas has threatened. The warning comes after reports over the weekend that Abbas was considering dissolving the Palestinian Authority if the April 29 passes without any developments.
"If the negotiations stop, it's the Israeli government that will bear the responsibility for the economic situation and the paying of the salaries of (Palestinian) employees, workers and farmers, for health and for education just as it did before the establishment of the Authority," he told reporters visiting his presidential headquarters in Ramallah.
"Also, it will bear responsibility for security, meaning Israel will bear full responsibility ... We hope that we won't come to this period but that we come to solutions," he said.
Furthermore, Abbas set out conditions that Israel will have to fulfill for the continuation of negotiations. He called on Israel to establish a border between Israeli and Palestinian territory.
"If Israel believes in the two-state solution, let us define the borders – where Israel will be and where Palestine will be," Abbas said.
He also reiterated Israel should stop the construction of new settlements in the West Bank and in East Jerusalem, and should release a fourth wave of prisoners.
US State Department Spokeswoman Jen Psaki said the disbandment of the Palestinian Authority would have serious implications for Washington's relations with Palestine. She also and encouraged both sides to work toward an agreement.
Israel, for its part, has said that it is up to the Palestinians to decide whether or not they want to continue with negotiations beyond the deadline.
"They should decide whether they want to disband or have unity, and when they want peace, they should let us know, because we want a genuine peace," Prime Minister Benjamin Netanyahu said Monday.
Relations between the Israeli government and the Palestinian Authority have deteriorated dramatically over the past month, culminating in the imposition of sanctions on Palestine by Israel.
The sanctions included the freezing the transfer of all taxes collected in Israel to Palestine. Israel monthly collects some $110 million in taxes on goods bound for the Palestinian territory, which roughly amounts to around two-thirds of the income received by the Palestinian Authority.
Negotiations between the two sides took a turn for the worse at the beginning of April when Israel refused to carry out scheduled prisoner releases.
In response, Abbas submitted applications to join 15 international conventions, prompting sharp condemnation from Israel which branded the move as unilateral step towards statehood and a violation of the terms of negotiation.
You can share this story on social media: