Israel slaps Palestine with economic sanctions amid collapsing peace talks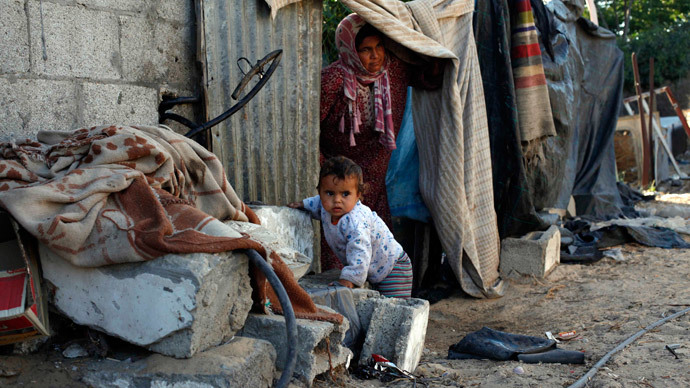 ​Israel has imposed additional economic sanctions against Palestine in response to its unilateral decision to join 15 international conventions last week which Tel Aviv claims to be in breach of conditions of the ongoing peace talks.
"It has been decided to freeze the transfer to the Palestinian Authority of the taxes collected by Israel on its behalf," an Israeli official told AFP. Reuters too confirmed the reports adding that Tel Aviv will deduct "debt payments" from tax transfers which the Palestinians receive. Israel will also place a limit on Palestinian bank deposits in Israel.
Israel monthly collects some $110 million in taxes on goods bound for the Palestinian territory which roughly amounts to around two-thirds of the income received by the Palestinian Authority. Palestinian debts to Israel for services total at least a month's worth of revenue, local Israeli media reports.
In addition, the official noted that Israel is halting its participation in a project to develop a gas field in the sea next to the Gaza strip.
Palestine was quick to denounce the new sanctions.
"These sanctions will not scare us and they're evidence to the world that Israel is a racist occupation state that has resorted to the weapon of collective punishment in addition to other practices including settlements and their expansion and the denial of our most basic rights as a people," Senior Palestinian official Yasser Abed Rabbo told Reuters.
Thursday's measures follow Wednesday's announcement that Israeli Prime Minister Benjamin Netanyahu told the government ministries not to meet with Palestinian officials stopping all civilian and economic cooperation. Defense Ministry communications are still in place and the peace talks with April 29 deadline were not canceled.
"In response to the Palestinian violation of their commitments under peace talks... Israel government ministers have been told to refrain from meeting their Palestinian counterparts," an Israeli official told AFP on Wednesday. "There are no (regular) meetings organized between Palestinian and Israeli ministers, apart from the finance ministers."
Israel also chose to freeze the installation of 3G cellular technology in Palestine and halted the transfer of communications equipment belonging to the cellular phone company Watania into Gaza. Tel Aviv also froze the plans for new Palestinian communities in Israeli-controlled Area C in Judea and Samaria, Arutz Sheva reports.
Israeli sanctions come a week after Israel warned Palestine that it would enact punitive measures against what it sees as a breach of peace talk conditions, following President Mahmoud Abbas signing a request to join several United Nations agencies.
The Palestinian decision to seek more international recognition followed Tel Aviv's refusal to free the last batch of Palestinian prisoners on March 29.
"The Palestinian leadership has unanimously approved a decision to seek membership of 15 UN agencies and international treaties, beginning with the Fourth Geneva Convention," Abbas said after signing the petition last week.
Despite the introduction of punitive measures by Israel, the US brokered peace negotiations are continuing as both sides work towards reaching a deal ahead of April 29 deadline.
"The gaps are narrowing, but any speculation about an agreement is premature at this time," State Department spokeswoman Jen Psaki said, confirming a new round of talks between the Israeli, Palestinian and US negotiators. "We're working, as you know, to determine what the path forward is for these negotiations, and that is up to the parties."
Abbas is demanding that Israel enacts a construction freeze in Judea, Samaria and Jerusalem, and releases the fourth and final batch of 26 prisoners. In July 2013, the Israeli cabinet agreed to release 104 Palestinian prisoners convicted before the Oslo Peace Accords were signed. The prisoners were set to be released in four rounds.
Israel too has set new conditions to save collapsing peace talks with Palestine. Tel Aviv wants Washington to release an Israeli spy.
But the new punitive measure by Israel are likely to further damage an already struggling Palestinian economy, which last month reported $4.8 billion in debt, with a $1.5 billion budget deficit.
Azzam Ahmad, Palestinian party central committee member of Fatah, warned on Wednesday that Israeli sanctions will "lead to its [Palestine's] collapse," blaming Israel and the US for its potential demise.
"The United States and Israel are jointly responsible for the collapse of the PA and its consequences," Ahmad told Maan News Agency.