Abbas applies to 15 UN bodies in pursuit of further recognition for Palestine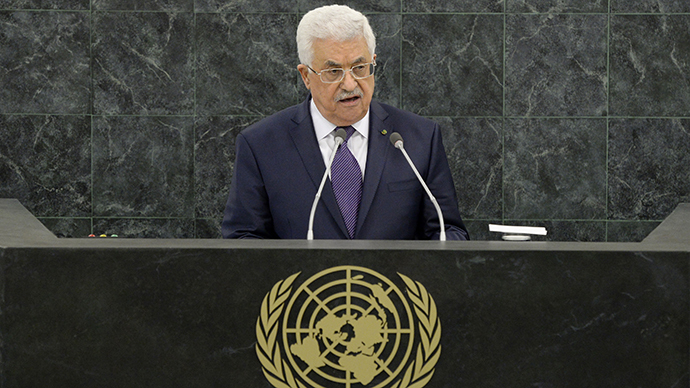 Palestinian President Mahmoud Abbas said Tuesday that the Palestinians are immediately applying for admittance to 15 UN agencies and conventions after Israel failed to release a fourth batch of prisoners in March.
The Palestinian Authority (PA) leader held an emergency meeting in Ramallah late Tuesday, where he signed a document to join 15 UN agencies and international organizations in a televised ceremony.
Abbas said he made the decision after Israel delayed a fourth release of Palestinian prisoners, which had been scheduled for March 29.
"We have nothing against American efforts," he said, stressing that Israel is procrastinating.
"There was a commitment to a fourth prisoner release by March 29, since then there have been various promises but no results. This despite our leadership's agreement to refrain from going to the UN for nine months, all in order to secure the release of prisoners," he said.
Abbas stated that if the prisoners are not released, he will commit the Palestinian Authority to joining 63 international institutions, adding that he has the unanimous backing of the PA leadership.
The move could derail faltering US-mediated peace talks with Israel.
US Secretary of State John Kerry was due to fly to Ramallah for talks to try and extend the three-way negotiations until 2015. However, a US official has said the trip will no longer be taking place.
Peace talks between Israel and the Palestinians resumed last July. In turn, Abbas said he would suspend attempts to join UN agencies, while Israel promised to release 104 Palestinian prisoners in four groups.
Israel has not yet commented on the matter, but it views the move by Abbas as an attempt to avoid further peace talks.
Meanwhile, US Secretary of State John Kerry was close to a deal aimed at rescuing the faltering talks. His formula involved the release of convicted Israeli spy Jonathan Pollard in return for freeing hundreds of Palestinians held by Israel.
The deal would also have involved a commitment from Israel to show "great restraint" in the occupied West Bank from building further settlements, but would not have included a complete freeze on settlement building.
The US has been pushing hard to keep the negotiations afloat past the end of the April deadline. The inclusion of Pollard in the deal has been viewed as surprising and a reflection of American desperation to keep the talks moving forward.
Pollard was arrested in 1985 and sentenced to life imprisonment in the US for spying for Israel. He is up for parole in November 2015.
The Palestinians have given a cool response to the US proposals, saying they need a complete halt to settlement construction and that 1,000 prisoners of their own choosing must be freed.
The prisoner release is a difficult political step for Israel, with far-right coalition partners angry at the idea of freeing terrorists who have committed lethal attacks.
But in Palestine, freeing inmates helps increase support for Abbas from popular Islamist groups who are opposed to negotiating with Israel.
You can share this story on social media: