​Peace talks at 'impasse' over Israel's continued settlement building – Palestinians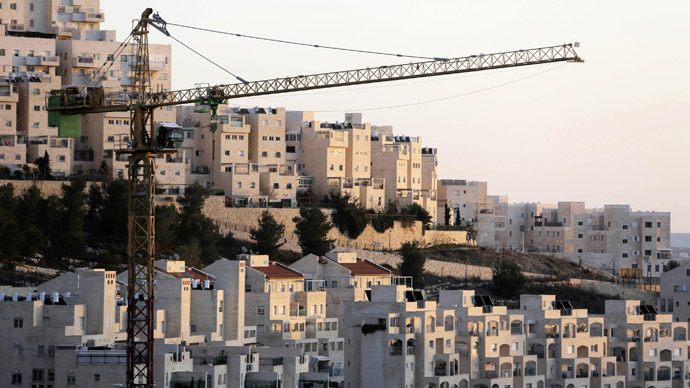 Israeli-Palestinian peace talks have come to a stalemate, given that Jewish settlement activity in the West Bank is proceeding with over 2,000 more units planned, a Palestinian spokesman said on Thursday.
"Israel's settlement activity caused the negotiations to fail and led them to an impasse," Nabil Abu Rudeina, a spokesman for Palestinian President Mahmud Abbas, told AFP.
Rudeina's statement came in response to a decision by an Israeli Defense Ministry committee to proceed with plans to build 2,269 new West Bank homes, further complicating the US-backed peace talks ahead of the April 29 deadline for all negotiations.
A Defense Ministry spokesman said in February that the committee approved 1,015 housing units in Leshem, Beit El, and Almog, only needing Defense Minister Moshe Ya'alon's approval to go forward.
The committee also approved 1,254 units in Ariel, Shvut Rachel, and Shavei Shomron. These projects will be up for public comment before the committee will again consider them.
The peace talks are on life support, as Washington attempts to compel both sides to agree to a framework to extend negotiations.
Palestinians have turned away from any extension thus far, mainly over Israel's insistence on further settlement construction, which has not ceased since talks resumed last July.
On Wednesday, a municipal committee gave final approval for plans to construct 186 new homes in annexed Arab East Jerusalem.
Israeli anti-settlement advocacy group Peace Now said the new units further destabilize any chance of a two-state solution, and that they are more proof that Israel has "no intention to reach a peace agreement and was doing everything it could to force Palestinian president Mahmud Abbas out of the process."
The release of Palestinian prisoners also looms over any extension of the talks. Israel has warned that should the Palestinians not agree to an extension of peace talks, it will not release the fourth and final group of inmates on March 29.
In July, when discussions began again, Israel agreed to release a total of 104 prisoners.
Abbas said earlier this month that Palestinians would not agree to any extension until Israel releases more prisoners. He echoed this in talks with US President Barack Obama on Monday, saying key Palestinian prisoners must be set free soon.
In particular, Abbas referred to Popular Front for the Liberation of Palestine leader Ahmad Saadat, former Palestinian Liberation Organization finance official Fuad Shubaki, and Marwan Barghuti, who was instrumental in the 2000 intifada.
A European Union parliamentary delegation urged Israel on Thursday to release long-held Palestinian prisoners, for the sake of advancing the peace talks.