'Boycott Israel' app in final stages of development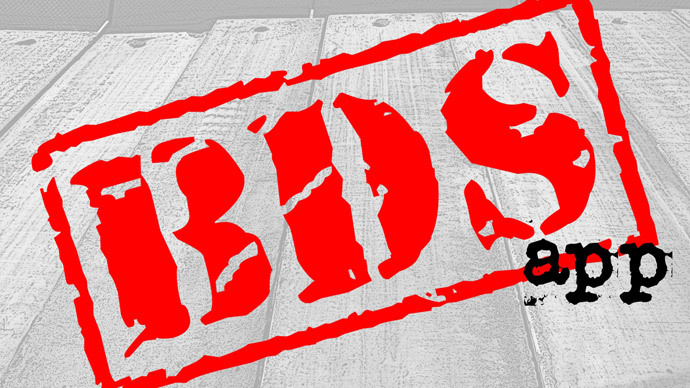 The Boycott Israel movement is developing a smart-phone application that will allow followers to avoid Israeli products. The campaign for Palestinian rights continues to gather momentum, despite Israeli accusations of anti-Semitism.
The BDS (Boycott, Divestment, Sanctions) movement is working on the Beta version of an app for its supporters. Drawing on a comprehensive database of warehousing product names and descriptions, the app will allow users to scan products to find out immediately whether they fall within the boycott's guidelines.

The founder of PennBDS, Abbas Naqvi, told the Business Insider that the app will allow "the average Joe" to "dynamically and quickly identify products that fall within the BDS boycott guidelines."

The application is currently in the final stages of development and the BDS says it will be ready to download in the near future.

BDS is a self-proclaimed movement that aims to "target products and companies (Israeli and international) that profit from the violation of Palestinian rights, as well as Israeli sporting, cultural and academic institutions."

Last month BDS hit the headlines when it demanded Oxfam drop Hollywood actress Scarlett Johansson as an ambassador for her endorsement of the Israeli-based company SodaStream. The boycott movement argues that Scarlett Johansson's role in Oxfam undermines the organization's supposed condemnation of economic corporation with Israeli settlements.

"A refusal to part ways with Johansson will tarnish the charity's credibility among Palestinians and many people of conscience around the world," said the BDS in a statement.

Recently the organization has gained popularity and recognition internationally, prompting the condemnation of Israeli Prime Minister Benjamin Netanyahu. Last month the Israeli leader branded the campaign as anti-Semitism in a modern guise.

"I think that it is important that the boycotters be exposed for what they are, they are classical anti-Semites in modern garb," Netanyahu said.

Israeli-Palestinian peace talks have been on the rocks recently after a speech by Netanyahu calling on Prime Minister Mahmud Abbas to "abandon fantasy" and recognize Israel as a Jewish state. The statement prompted a knee-jerk reaction from the Palestinian Authority who decried it as tantamount to "an official announcement of a unilateral end to negotiations."

US President Barack Obama warned Israel that the US may not be able to protect it if the two-state solution fails.

If Netanyahu "does not believe that a peace deal with the Palestinians is the right thing to do for Israel, then he needs to articulate an alternative approach," Obama told Bloomberg in an interview on March 3.
You can share this story on social media: