Israeli PM brands boycotters 'anti-Semites,' bent on 'destruction of Jewish state'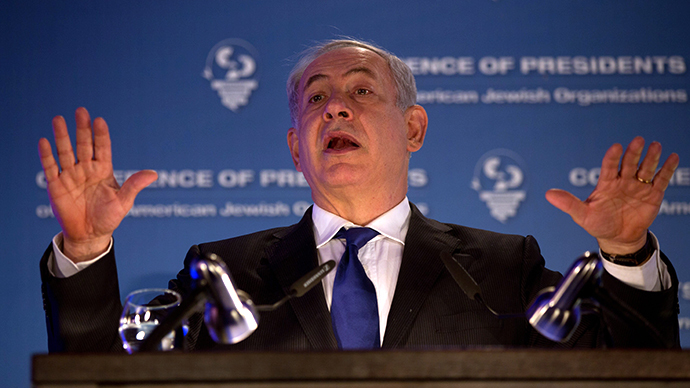 Prime Minister Benjamin Netanyahu has condemned the boycott movement against Israel as anti-Semitism in a modern guise. Blasting the initiative as an "outrage," Netanyahu likened EU companies' tactics to the Nazi policy of embargoing Jewish businesses.
In a heated attack on the Palestinian-led boycott movement of Israel, Netanyahu told a conference of US Jewish organizations in Jerusalem on Monday that it was time to "delegitimize the delegitimizers."
"In the past anti-Semites boycotted Jewish businesses and today they call for the boycott of the Jewish state, and by the way, only the Jewish state," Netanyahu said. "I think that it is important that the boycotters be exposed for what they are, they are classical anti-Semites in modern garb," Netanyahu said.
He added that the ultimate goal of the Boycott, Divestment and Sanctions movement (BDS) was the destruction of the Jewish state. The BDS is a movement sponsored by pro-Palestinian intellectuals and bloggers and is calling for a boycott on all Israeli goods as an act of protest against Israel's policy towards Palestine.
It encourages its supporters to "target products and companies (Israeli and international) that profit from the violation of Palestinian rights, as well as Israeli sporting, cultural and academic institutions."
The "most disgraceful" aspect of the movement, said Netanyahu, is the fact that European companies are participating in the boycott.
Israel has previously criticized Europe for its "one-sided" stance with regard to the conflict with the Palestinians. The Israeli government summoned ambassadors from the UK, France, Italy and Spain in January after they lodged their protest at 1,400 new homes planned to be built in the West Bank.
Netanyahu said that their stance on the issue endangers the peace process because they fail to recognize the Palestinian incitement to terrorism.
US Secretary of State John Kerry also drew the fury of Israeli leaders after his comments at a conference in Munich this month regarding the peace process. He said that if peace was not reached with the Palestinians, it is possible that calls for a boycott and the delegitimization of Israel will continue to grow.
"You see for Israel there is an increasing deligitimization campaign that has been building up. People are very sensitive to it," said Kerry. "There [is] talk of boycotts and other kinds of things. Are we all going to [be] better with all of that?"
The statements triggered a wave of furious rhetoric from Israeli politicians. Strategic Affairs Minister Yuval Steinitz said Israel would not negotiate with a gun pointed at its head.
You can share this story on social media: