More conditions to peace talks: Israel presses US to release spy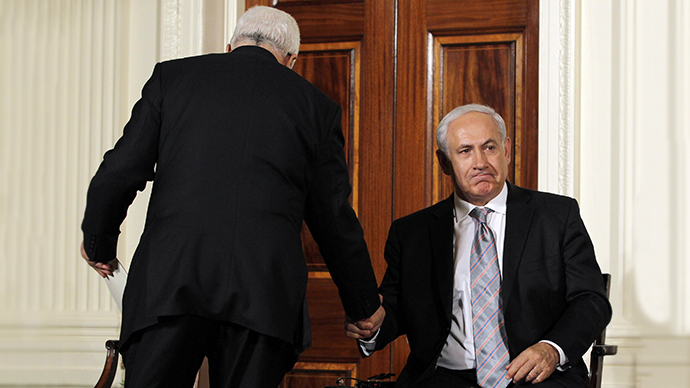 Israel has set new conditions to save collapsing peace talks with Palestine. Tel Aviv wants Washington to release an Israeli spy, while Palestine should eat crow and withdraw an already-filed application to sign up 15 UN conventions.
Israeli Intelligence and Strategic Affairs Minister Yuval Steinitz told the Daily Telegraph that the remaining batch of Palestinian detainees will remain in prison until America sets free a former US Naval Intelligence analyst, Jonathan Pollard, who was jailed in 1987 for life for handing over US secrets to Israel.
"If America - or Abu Mazen [Palestinian President Mahmoud Abbas] and America - want us to release some Israeli prisoners, terrorists who are Israeli citizens, then I would put it like this: without the release of Pollard it will be impossible to pass such a decision in the cabinet," said Steinitz. He added that even in case the US agree to Pollard's release, it's going to be "very hard," yet "might be possible," to convince the Israeli cabinet to approve the release of the Palestinians.
Steinitz reasoned that the principal difficulty of releasing Palestinians is that "between 70 and 80 percent of Israelis in opinion polls were against it," and stressed that "It was Prime Minister Netanyahu who took upon himself the very difficult decision to release convicted terrorists from jail."
Steinitz maintained that greater international recognition to Palestine should also be scrapped and reversed if Palestinians want to see their men free and if Americans want the talks keep going.
"We were ready to do it. If the Palestinians will cancel their unilateral steps and will agree to proceed with the peace dialogue, it might be the case that we will still be able to do it. But we have to have the confidence that [Mahmoud Abbas] is ready to promote real peace and to conduct these very complicated peace talks," Steinitz said.
After Israel missed the deadline for releasing Palestinian prisoners and simultaneously announced plans for construction of new settlement on the occupied territories, the US Secretary of State seems to be shifting the blame for crumbling peace talks on
"The prisoners were not released by Israel on the day they were supposed to be released and then another day passed, and another day, and then 700 [housing] units were approved in Jerusalem and then 'poof' - that was sort of the moment," Kerry said.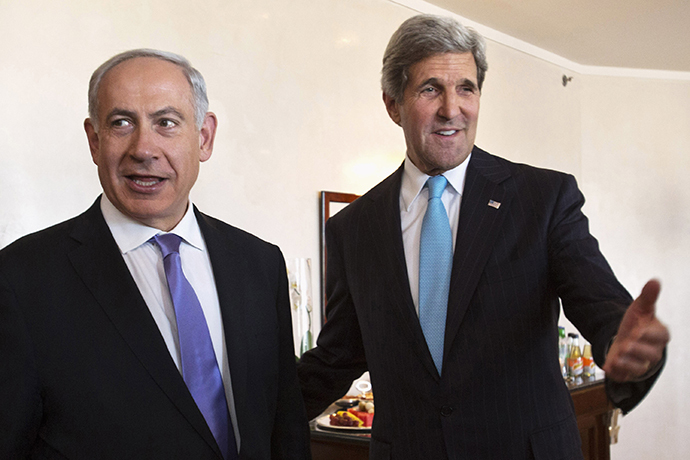 On Wednesday, Israel reacted unusually sharply, saying it was "deeply disappointed" by Kerry's remarks a day earlier. An official in Netanyahu's office told the New York Times that John Kerry "knows that it was the Palestinians who said 'no' to continued direct talks with Israel in November; who said 'no' to his proposed framework for final status talks; who said 'no' to even discussing recognition of Israel as the nation-state of the Jewish people; who said 'no' to a meeting with Kerry himself; and who said 'no' to an extension of the talks."
Steinitz refused Kerry's interpretation of events, saying it's impossible to justify the release of another group of terrorists from jail unless this is helpful for peace talks.
He also pointed out that Tel Aviv remains dissatisfied with the partial lift-off of crippling economic sanctions against Iran.
The remaining sanctions give the world "enough leverage" to force Iran into dismantling its uranium enrichment facilities, because "they don't really need it, unless they want to remain a threshold nuclear state, one step or two steps from a bomb," Steinitz told the Telegraph.
Last year Israel and the Palestinian Authority returned to the negotiating table after three years of stalemate thanks to great diplomatic effort from Washington.
In July 2013, Israeli cabinet took a painful decision and agreed to set free 104 Palestinian prisoners convicted before 1993, when the Oslo Peace Accords were signed, as political prisoners that should have been released a long time ago.
The prisoners were set to be released in four batches of 26 men in each. The first three releases were conducted as scheduled, but the last one was suspended to be used by the Netanyahu cabinet as a political leverage.
After Israel violated previous agreements and refused to free the last batch of Palestinian prisoners on March 29, the Palestinian Authority retaliated in a tit-for-tat manner and applied to join 15 UN conventions on April 1, thus also violating a previously-reached agreement not to seek greater international recognition.
The principle mediator of Israeli-Palestinian peace talks, US Secretary of State John Kerry, could not hide his disappointment with the developments putting negotiations in jeopardy.
Now Israel is making an attempt to win back lost positions in a single step by laying down two more preconditions: nullify Palestinian entry to the UN and free a man that used to spy for Israel and who no US president has agreed to release – until Barack Obama.
In an article written for Antiwar.com, RT's frequent contributor Ivan Eland, Defense Analyst at the Independent Institute, calls not to free spy Jonathan Pollard simply because this concession is unnecessary as both Israelis and the Palestinians are really reluctant to reach an agreement.
Instead of motivating Israel into extending stalled peace talks with the Palestinians, Netanyahu would regard this concession as yet another manifestation of "cozy US relationship with Israel," wrote Eland.
"The hawkish Israeli Prime Minister Benjamin Netanyahu would likely just pocket the concession and continue his unyielding obstructionism," Eland warned, proposing to better motivate Israel by cutting America's $3 billion annual military aid.
Handing over to Israel its spy Jonathan Pollard would look particularly unjust in the face of the Obama administration actively trying to extradite and prosecute whistleblower Edward Snowden, who was not spying for any country for money, but rather tried to save the world – and the America nation in the first place – from the pervasive surveillance of the US National Security Agency.
To a certain extent, Snowden's revelations facilitated Israeli efforts to free Pollard, who passed highly classified US military information to Israel for years.
Once Snowden revealed that the US are systematically spying after the friends and foe alike, Israel included, Israeli politicians stepped up the pressure to release Jonathan Pollard, who has already spent nearly 30 years in a US federal prison.
Dubbed the 'Prisoner of Zion', Pollard was granted Israeli citizenship in 1995, and has lobbied for his release ever since.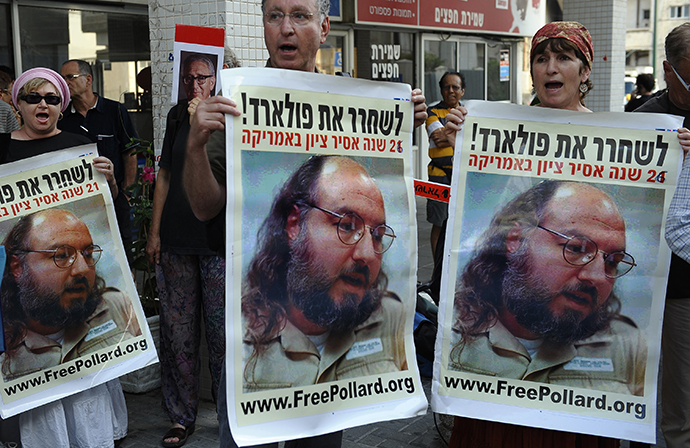 Every American president starting from Ronald Reagan has been refusing to free Pollard, but the Obama administration has recently refused to rule this option out.
In December 2013, Israel's Channel 10 announced that the US Secretary of State John Kerry offered to free convicted Israeli spy Jonathan Pollard once Tel Aviv frees the fourth and final batch of prisoners.