Spanish 'Kill Jews' village considers changing its name to drop anti-Semitic phrase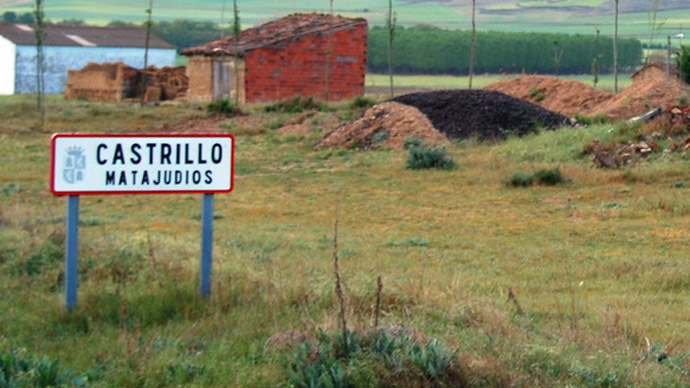 A Spanish village, whose Inquisition-era name contains the phrase "kill Jews", is considering changing its name to its original and more peaceful one that means "Jews' Hill".
Castrillo Matajudios [where 'matar Judios' means 'killing Jews'], a small village with 60 families in Leon, northern Spain, is set to officially decide on the name change at a referendum next week, the regional daily Diario de Burgos reports.
The meeting of all residents at a town hall, where the people will be told the history of the village and its name, and the vote are scheduled on April, 19.
If the majority votes for the proposal submitted by local mayor Lorenzo Rodriguez, the village will revert to its original name Castrillo Mota de Judios, which means "Castrillo Jews' Hill" that was changed during the Spanish Inquisition.
"The decision by majority will be respected, even if there is one vote [difference]," Mayor Lorenzo Rodriguez said.
According to Rodriguez, in 1035 there was a massacre of Jews in nearby Castrojeriz, which had one of the earliest Jewish communities in Spain. Many of them fled to nearby Castrillo where equal rights had been given to Jews and Christians back in 974. However, Castrillo, too, saw a massacre in 1109.
The name Matajudios also dates back to medieval times, when converted Jews were sometimes publicly executed in show trials at around Easter.
In some parts of Spain, especially in the north, the term "killing Jews" (matar Judios) is used to describe the traditional drinking of lemonade spiked with alcohol at festivals held in city squares at Easter.
"Unfortunately, these expressions exist in Spain, but the people who use them do not know their true meaning," spokesman for the Federation of Jewish Communities of Spain Maria Royo told local Jewish News Agency. "It is a complicated issue that is ingrained in local culture."
Given the popularity of the expression, "it is impossible to forbid this language" in that context, Royo explained.
Leon will hold its "matar Judios" fiesta on Good Friday, April 18, where organizers estimate 40,000 gallons of lemonade will be sold.
You can share this story on social media: