Pro-Gaza protesters attack Israeli team during soccer match in Austria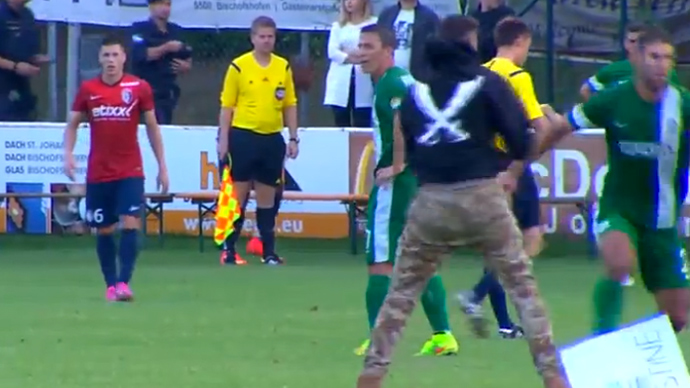 A friendly between the Israeli and French football team in Austria turned ugly, after several pro-Palestinian protesters stormed the pitch and attacked the Israeli players.
Maccabi Haifa (Israel) and LOSC Lille team (France), were playing a football match in the city of Bischofshofen, in the Austrian state of Salzburg.
However, with the Lille team in the lead 2-0, about 20 protesters waving Palestinian flags took to the pitch. They first attempted to attack Yossi Benayoun, Maccabi Haifa's captain and then the other players.
The demonstrators apparently only managed to spit on one of the members of the squad. No one was actually hurt in the incident, police said.
However, a picture released in social media shows that at least one player was kicked and some players retaliated.
The "friendly" match was stopped in the 86th minute.
The Israeli players had to wait about an hour after the match in their dressing room as some of the protesters remained outside the stadium. The team left the stadium under police protection.
Police made no arrests.
Israeli club Maccabi Haifa's players attacked by pro-Palestinian pitch invaders during friendly v. Lille. pic.twitter.com/bpdwQehECW

— Nour Agha (@NourAgha) July 24, 2014
In the meantime, Maccabi Haifa Football Club condemned the attack on its team, saying that the protesters were mostly "Turkish migrants."
"We experienced an uncomfortable atmosphere of violence on the pitch and in the stands. The attack was premeditated and dangerous in light of the incitement in Turkish media," said Maccabi Haifa club's statement, as cited by the Jerusalem Post.
The club officials added that the football club believes in "co-existence, tolerance and is against violence."
"We denounce the violence that was used against us. This didn't happen because of sport or football, it happened because we are a team which represents Israel," added the statement.
Austria's Foreign Minister Sebastian Kurz also condemned the attack on the Israeli team.
"I demand a full investigation of these incidents. The perpetrators must be brought to justice, because in Austria there should be absolutely zero tolerance for religious or anti-Semitic violence," he said in a statement.
Israeli Gaza offensive inspires global rallies, Paris protest turns violent
Pro-Palestinian rallies have been held throughout the world since the Israeli authorities launched Operation Protective Edge against Gaza. It has so far claimed the lives of over 700 Palestinians, many of them children and civilians.