Israeli Gaza offensive inspires global rallies, Paris protest turns violent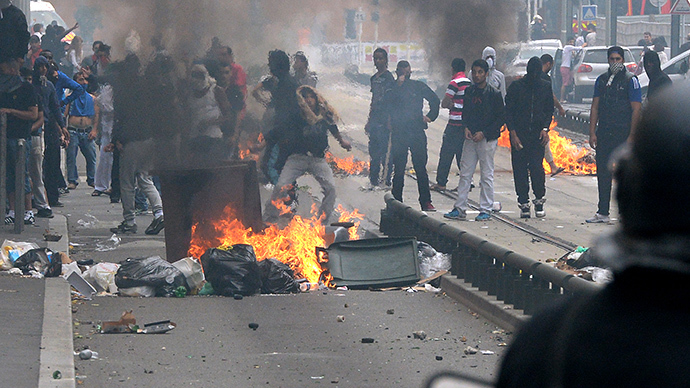 Hundreds of protesters looted shops, burnt cars and attacked a synagogue, as an unauthorized anti-Israeli rally turned violent in a Parisian suburb. Simultaneously, thousands participated in peaceful pro-Palestinian marches across the globe.
Despite a ban by authorities, an anti-Israel demonstration was held on Sunday in a Parisian suburb of Sarcelles, dubbed 'Little Jerusalem' for its large community of Sephardic Jews. It was the second in a row unauthorized protest in the French capital to turn violent over the weekend.

On Saturday, activists clashed with police during pro-Palestinian rally in the center of Paris (PHOTOS, VIDEO)
Several hundred people gathered for protest in Sarcelles by 3pm local time, with dozens of youths then setting cars on fire, smashing shop windows and raiding the shops, throwing stones at police. Protesters shouted: "F*** Israel!" and "Israel assassin."
A #Sarcelles actuellement. Condamnation ferme de ces violences ! pic.twitter.com/6rfw4P0yii

— Arash Derambarsh (@Arash) July 20, 2014
A Molotov cocktail was thrown at a synagogue, Le Figaro reports.

The police responded with tear gas, rubber bullets and detaining at least 13 rioters, according to the Local.
The decision to ban pro-Palestinian protests in Paris raised controversy as the rallies happened anyway and turned violent. France's Prime Minister Manuel Valls defended the decision not to allow protests, saying the unrest that broke out "justifies all the more the brave choice by the interior ministry to ban a demonstration," AFP reported.
Elsewhere in Europe pro-Palestinian protests appeared to be relatively peaceful.

The largest one in Europe drew 11,000 of people to the streets of Vienna, who marched across the city center to the official residence of the country's president.

Thousands take to the streets of Vienna in Gaza protest (PHOTOS, VIDEO)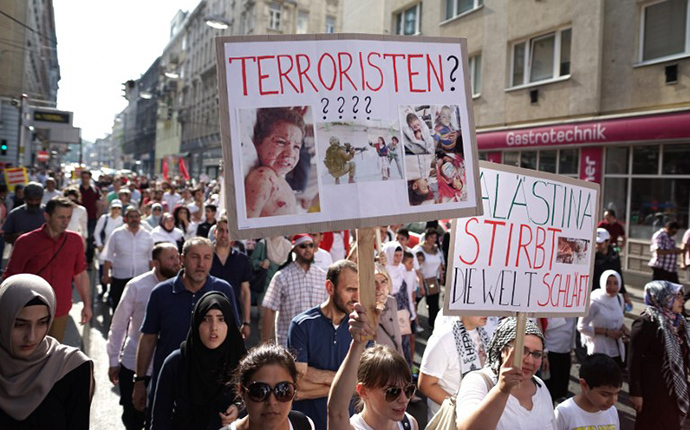 In Amsterdam, some 3,000 participated in the march, demanding an immediate end to the Israeli military operation in Gaza. People carried signs reading "Stop the war" and "Israel war criminals." Just one person was detained for refusing to obey a police order, the Netherlands' NOS reported.

"It just has to stop. Children are being killed and they are innocent," said protester Ekrem Kara, as cited by AFP.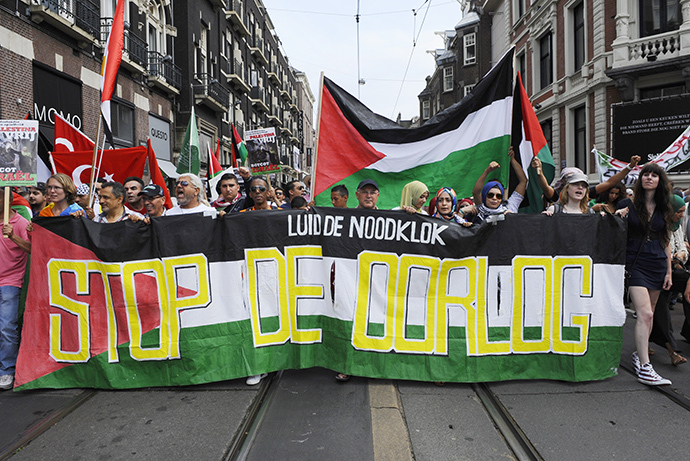 Amsterdam today protesting against Israel's horrific massacre in Gaza! #BDS#GazaUnderAttack#Genocidepic.twitter.com/IN1JQvqRjB

— Delic #BDS (@HamdoDelic) July 20, 2014
A similar rally in Stockholm gathered 1,000 participants.

In the US massive pro-Palestinian protests were held on Sunday in Washington, DC, Los Angeles, San Francisco and Chicago.
Thousands marched to the Israeli Consulate in Chicago, home to a quarter million Palestinians, demanding a halt to Israel's military action in Gaza.

In response, the consulate general released a statement defending the military operation.

"Today is a tragic day," the statement reads as cited by WGN_TV. "13 Israeli soldiers were killed by the terrorist organization Hamas. We regret the loss of civilians on both sides. Hamas continues to brutally attack 6 million Israeli citizens and puts its own population in danger. We have to stop it."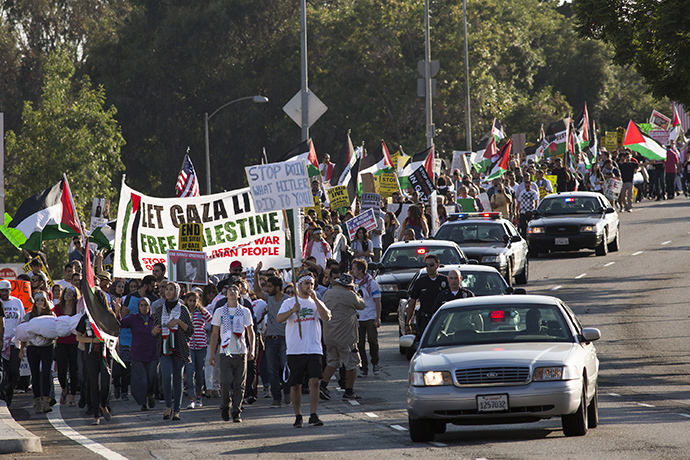 Some 2,000 protesters took to the streets of Sydney in opposition to the Israeli ground invasion of Gaza. Parents took their children with them for the rally.

"I'm here as a mum to raise awareness of what's happening in Gaza," Buthania Saeed, 41, told AAP. "All we're seeing is women and children being murdered, houses are being burnt down and families are being vanished."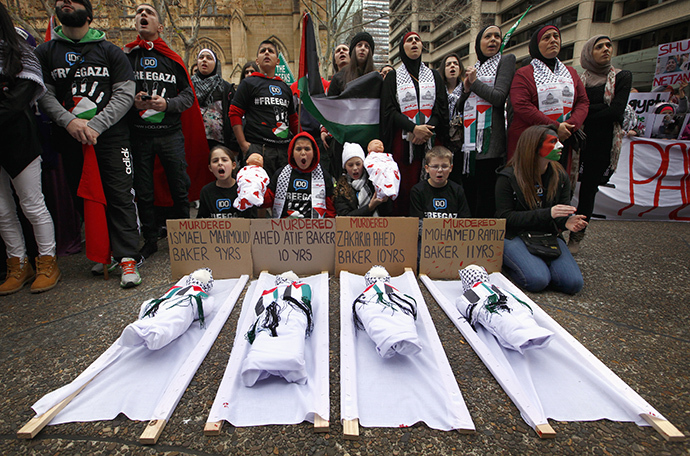 Hundreds of mainly Islamist Jordanian protesters burnt Israeli flags in Amman on Sunday, Reuters reports. Demonstrators called on Palestinian Hamas militants to step up rocket attacks against Israeli towns and cities to avenge civilian deaths caused by Israel's offensive in Gaza.

Lebanese activists staged a protest outside the US embassy in Awkar north of Beirut on Sunday. The rally participants burned the American and Israeli flags, while chanting slogans in support of the Palestinians, the Daily Star reports.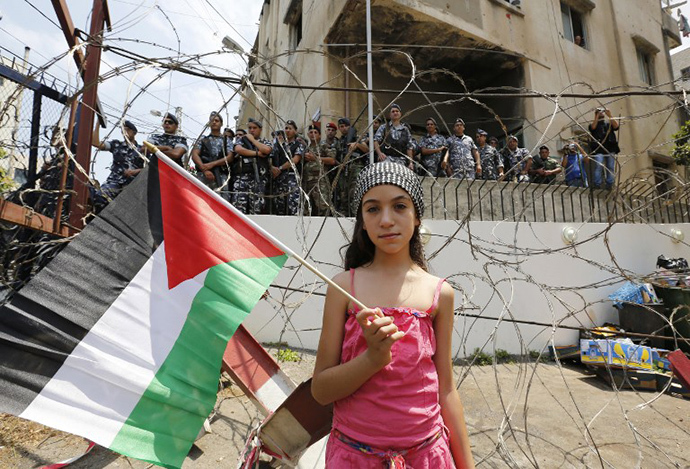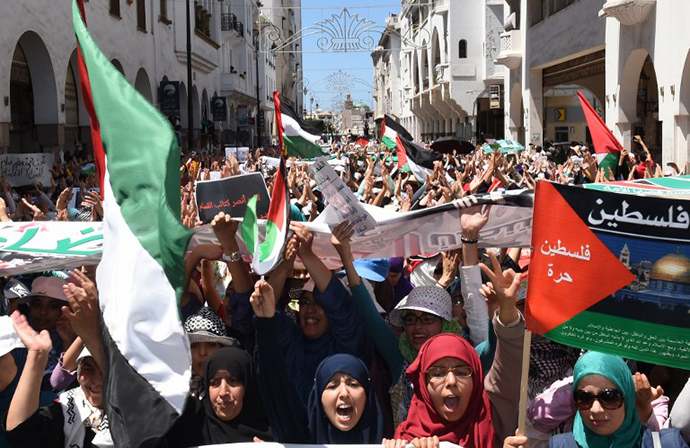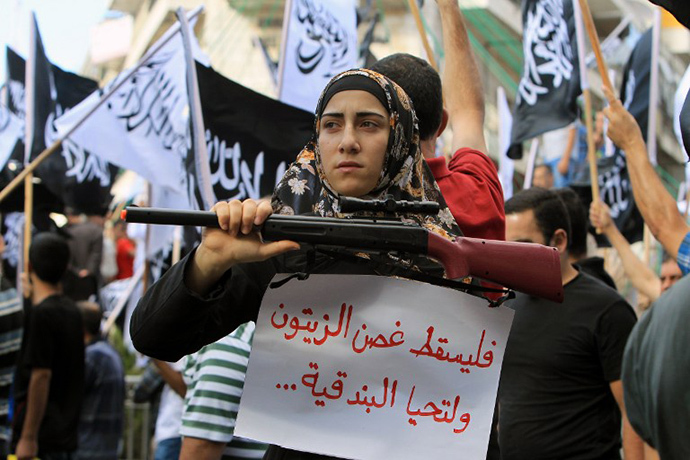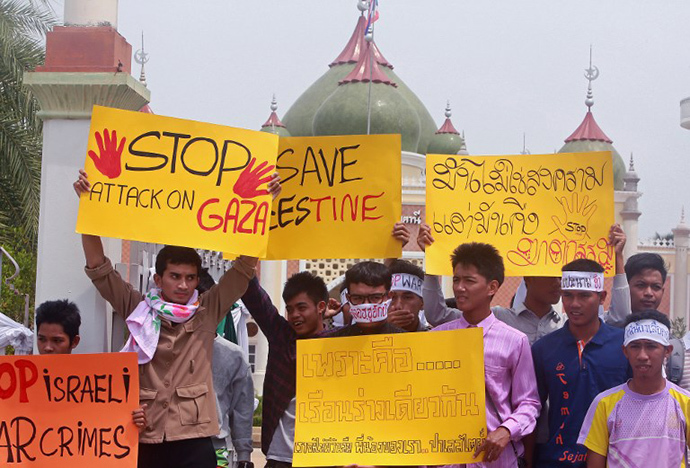 You can share this story on social media: