15,000 turn out for pro-Gaza rally in London (PHOTOS)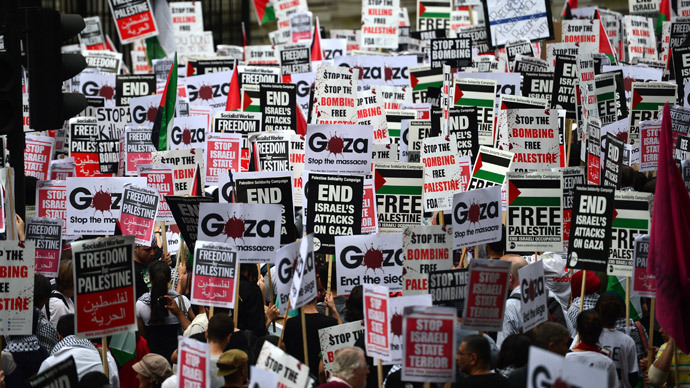 London streets were swarmed by a pro-Palestinian demonstration which gathered nearly 15,000 participants Saturday. Marching down to the Israeli Embassy from Downing Street, they chanted "Israel is a terror state," slamming Tel Aviv's offensive in Gaza.
David Cameron's office is located about 5km (3 miles) from the embassy. While the march itself was peaceful, several key roads downtown were closed.
The death toll from the operation launched by Israel, including the ground offensive of two days ago, has now reached 400 people by Palestinian health ministry's accounts, the overwhelming majority of them civilians.
Similar to other major cities across the world, demonstrators held signs and banners asking the Jewish State to "Stop the bombing, free Palestine", "Stop Israeli terror," and so on. Some called it the "apartheid" state, according to the AP.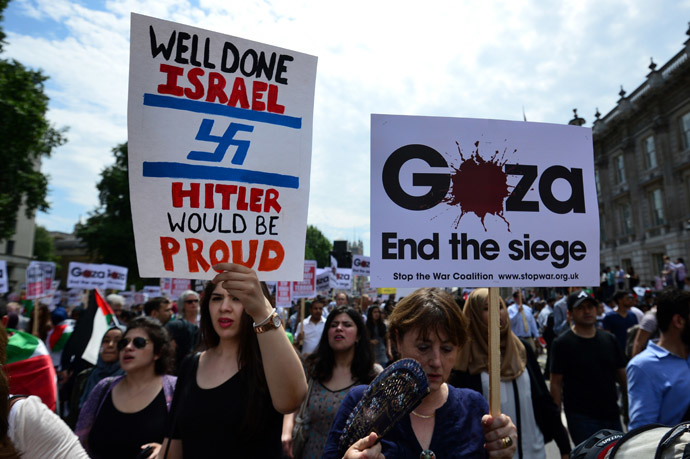 The march was organized in part by the left-wing Stop the War Coalition, whose belief it is that political cooperation with Israel is "nothing less that collusion with war crimes killing women, children and disabled people."
A similar voice was heard from one of the demonstrators, a Leila White, who told the Daily Mail that "by allowing arms exports to Israel to flourish, the UK Government is providing material and political support for Israel's violent oppression and collective punishment of Palestinians, including the current massacre in Gaza."
Tens of thousands on London #GazaJ19 protest for peace, justice & a Free Palestine. Stretching length of Whitehall pic.twitter.com/z7ZaprMOtT

— PSC (@PSCupdates) July 19, 2014
"There has not been enough condemnation of Israel's military action. Basically, we want the UK government to invoke an arms embargo against Israel."
Her group, the London Palestine Action, posted photos on Facebook of its members sitting with linked hands in the lobby of the Whitehall office building at around 4-5pm. They were chanting anti-Israel slogans and were promptly removed by the police.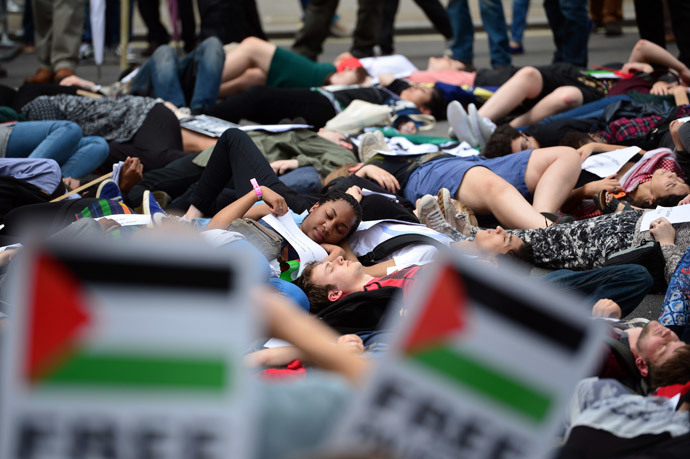 Some even locked or cuffed themselves to nearby railings, unfurling Palestinian flags and banners while demanding that Deputy Prime Minister Nick Clegg or another official from the Cabinet Office come out.
Unlike in violent Paris, however, no London arrests were made.
Politicians could be seen in the crowd as well. MP George Galloway strongly advocated the Palestinian cause, saying in a speech that "We are here to stay. As long as one Palestinian remains alive we will be with them."
Another figure present was the director of the Palestine Solidarity Campaign, Sarah Colborne, who told the press that "today's national demonstration will give people from across the country the chance to say enough is enough, Israel's siege of Gaza and its occupation of Palestinian land has to end now."
"People want justice and freedom for the Palestinians, and they will be voicing this in their thousands."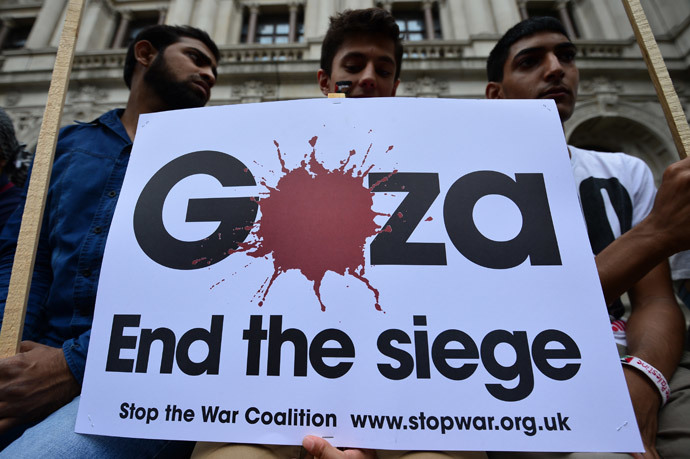 Opposition lawmaker, Labour's Dian Abbott, was also at the event. She told AFP that this was "the biggest London Palestinian rally in years."
This is truly huge #GazaUnderAttack#London#Gazapic.twitter.com/rv6auWH2uQ

— Donnacha DeLong (@donnachadelong) July 19, 2014
Everyone voiced their protest also against the French ban on demonstrations in several key cities, following fears that they are a threat to public order.
The event takes place just as 50,000 refugees have been displaced by the fighting in Gaza, with 34 UN shelters set up to deal with the influx, according to sources in the relief community. The 12-day offensive culminated in a ground operation two days ago, which itself is a reaction to Hamas unwilling to stop firing rockets into Israel. There are fears of yet more escalation as Israel is widely thought to expand its campaign from underground tunnel networks into more heavily-populated areas.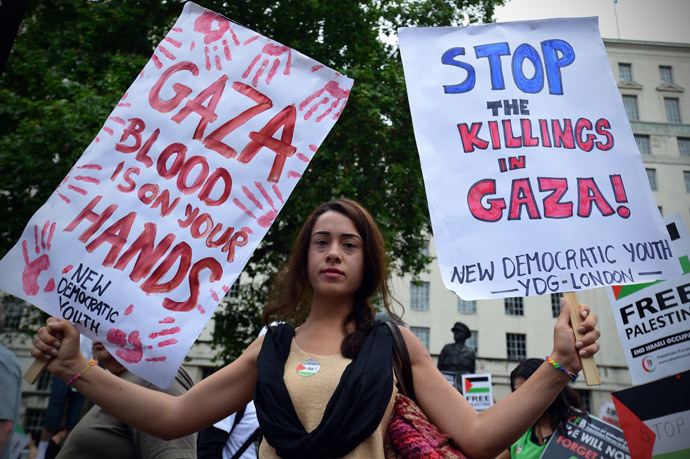 You can share this story on social media: