Israel complains of Hamas donkey-terrorists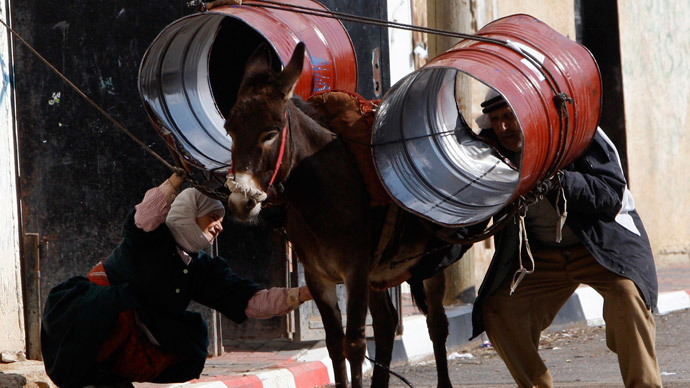 Palestinian militant movement Hamas has launched several attacks at Israeli forces involving donkeys carrying explosives, the IDF complained. The practice doesn't seem to be efficient, as Israelis can simply gun down the animals from a distance.
The latest such incident happened on Friday in the Rafah area, the IDF reported Saturday.
"A donkey suspiciously began to approach forces. The forces engaged the donkey and it exploded at a safe distance, whereas no injuries were sustained by the IDF as a result," the Israeli report said.
"Sending an animal to its death to serve terrorist purposes may seem shocking, but last night certainly wasn't the first time Palestinian terrorists adopted this despicable tactic," the IDF said.
Animals, and particularly donkeys, have been participants of insurgencies across the turbulent Middle East for decades, although they are usually used to pull carts with explosives – a cheap version of a car bomb – rather than clad in bombs.
One memorable example happened in January 2003, when a donkey with a bomb strapped to it was left on a road between Jerusalem and the West Bank settlement of Gush Etzion. The bomb was later remotely detonated, but no humans were hurt. The incident caused PETA to call on Palestinian leader Yasser Arafat to keep animals out of the conflict, which some activists called a publicity stunt that disregarded the loss of human life in the Israeli-Palestinian conflict.
Not only insurgent groups, but also governments explored the use of animal bombs for warfare. The US considered turning pigeons and bats into flying bombs and Soviet Union actually trained dogs to carry explosives to Nazi German tanks during World War II.
The latter program was abandoned, presumably due to low efficiency compared to conventional anti-tank weapons, which became available in larger quantities in the later years of the war. The dog trainers switched to training much more needed mine sniffers for engineers and sledge dogs for medics.
You can share this story on social media: