IDF Operation Protective Edge in Gaza Strip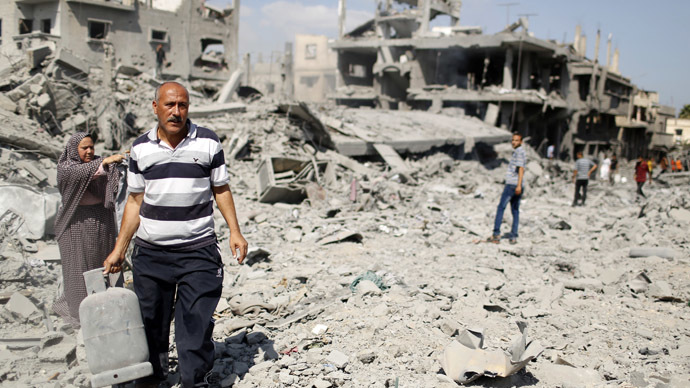 The death toll in Gaza has exceeded 2,000 since Tel Aviv launched their operation Protective Edge on July 8. A new ceasefire came into effect Monday, but broke down Tuesday with both Israel and Palestine threatening to quit truce talks.
26 August 2014

13:37 GMT

A long-term truce on Gaza has been agreed with Israel, a Palestinian official has told AFP.

12:10 GMT

More than 40 air strikes have been launched by Israel on Tuesday, and according to Palestinian authorities, four people have died from them in the last hour alone.

01:23 GMT

A statistical overview of 51 days of the IDF's assault on Gaza over the period July 6th to August 25th reveals that at least 2,123 Palestinians have been killed and at least 10,861 injured, the PLO Negotiations Affairs Department said in Monday's 'Gaza Under Fire' report, WAFA, Palestinian news reports.

"Israel's deliberate targeting of civilians is a flagrant violation of the Fourth Geneva Convention of 1949 to protect civilians during war. Israel is committing a war crime, a crime against humanity. We will follow those war criminals and bring them to justice," the report quoted Director of the Palestine Center for Human Rights in Gaza (PCHR) Raji Sourani as saying.

The report claims that 9,600 structures were demolished including 277 schools. In addition 10 hospitals and 7 clinics were damaged while 5 hospitals and 44 primary health clinics were closed. Meanwhile the refugees amount to at least 600,000 people, a third of Gaza's population.

"Lack of accountability will continue to fuel Israeli atrocities and crimes. Lack of international action will continue to increase the list of people killed, injured and displaced," concluded the PLO.

00:04 GMT

A 14-floor residential tower has been destroyed by Israeli missiles, al-Aqsa Television reported. According to reports four rockets from Israeli drones plus another four heavy bombs from jets landed on the building and turned it into rubble. Ambulances at the scene evacuated the casualties. The building is believed to house 100 apartments and 150 stores.

Seems like this tower block known as "the Italian Mall" in Gaza has just been flattened in Israeli bombing. pic.twitter.com/UlkE2ZtvQx

— Jon Donnison (@JonDonnison) August 25, 2014

25 August 2014

22:34 GMT

At least twelve Palestinians were killed on Monday across the Gaza Strip, medics told Ma'an news. Another 25 people have been injured with the toll feared to rise as several houses and a mosque were damaged by airstrikes.

17:28 GMT

Israel has intercepted one rocket some 11 km east of Tel Aviv in a town called Kiryat Ono. Three further mortar shells fell in open areas in Israel's southern district, reported Haaretz.

17:16 GMT

Rocket sirends have sounded just south of Tel Aviv, reports Haaretz, as well as in central Israel and in Kerem Shalom on the Gaza border.

24 August 2014

16:13 GMT

A woman and her three children were killed in an Israeli air strike in northern Gaza on Sunday, Ashraf al-Qudra, spokesperson for Gaza's Health Ministry, said. The strike hit a home near Jabalia in the north of the Palestinian territory, he told AFP. Earlier in the day, a one-year-old girl and a 17-year-old boy were killed in rocket fire. The death toll on the 48th day of the military conflict in the region has risen to at least 12.

11:43 GMT

Moments ago, several rockets and more than 5 mortars hit the Erez crossing injuring 4 civilians; one of whom was moderately injured.

— IDF (@IDFSpokesperson) August 24, 2014

06:29 GMT

Israeli airstrikes have destroyed a seven-story office building and severely damaged a two-story shopping center in the Gaza strip's southern town of Rafah early on Sunday, according to the AP.

The Israeli military claim both the buildings housed facilities linked to Hamas militants. The leveled seven-story Zourab building reportedly had an office of the Hamas-run interior ministry.