Buildings in ruins in Palestine after Israel's tit-for-tat airstrikes (PHOTOS, VIDEO)
Israel is reinforcing its border with the Gaza Strip after Palestinian militants and the Israel Air Force traded strikes overnight, leaving at least 15 people injured and two residential buildings in ruins.
Rockets that struck the two buildings in the southern Israeli town of Sderot caused no casualties, but caused extensive damage.
"We heard an explosion, and then a really strong explosion," a woman, who hid in a reinforced room with her three children, was cited as saying by Haaretz daily.
Another building was used as a nursery for infants, The Jerusalem Post reported police as saying.
The airstrikes knocked out electricity supplies in part of the town.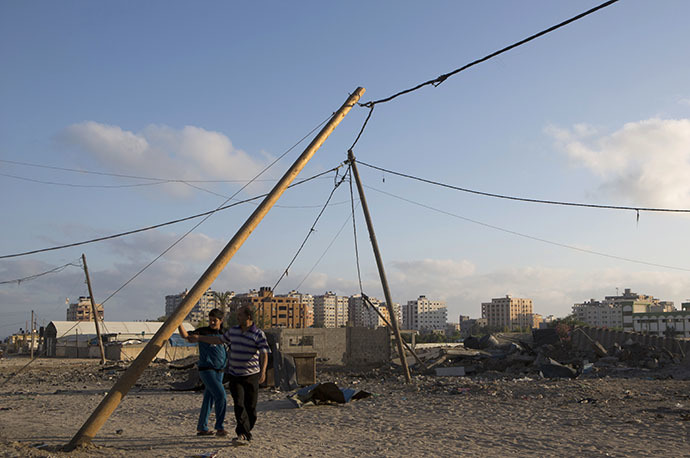 Around a dozen rockets fired after midnight from Gaza landed in Sderot as tensions rose on Wednesday evening and the wee hours of Thursday, Israeli media said, quoting the army. An Iron Dome anti-rocket defense battery intercepted two rockets in the evening – one over Ashkelon and another over Netivot. Three rockets exploded in Sderot and six fell in open areas, Haaretz reported.
A total of more than 30 rockets were fired from Gaza at Israeli territory on Wednesday and Thursday. Israeli army spokesman Lieutenant Colonel Peter Lerner said Hamas itself fired some of the rockets.
"In light of constant and continued fire into Israeli territory" Israel carried out 15 precision airstrikes in the Gaza Strip targeting Hamas, he said.
The IDF confirmed the strikes in a statement saying Hamas targets were hit, "including concealed rocket launchers, weapon storage facilities and terror activity sites," The Times of Israel reported.
The Israeli air strikes hit at least three Hamas training facilities in Gaza, said a source in the Islamist group, according to Reuters. Among the Hamas-affiliated targets there were reportedly hidden rocket launchers, training compounds and weapons storage sites, Haaretz said.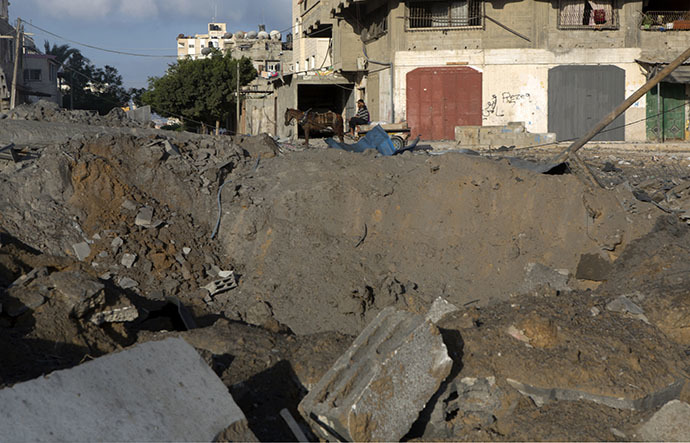 At least 10 civilians were injured in the northern Gaza Strip. One woman was said to be in critical condition, Gaza emergency chief Ashraf al-Qedra told journalists. Witnesses said there were at least 15 people injured, Reuters reported.
Israel began moving troops to reinforce its border with the Gaza Strip on Thursday. AP reported that buses carrying Israeli troops could be seen heading to the Gaza border area, and that soldiers were observed packing their equipment.
"We are moving and we have moved forces in order to serve defense activities and forward preparation, but we have no interest in escalation," Lerner told journalists, according to AFP. "The main issue is how Hamas is reading the situation. We don't want to take it further, but we will be prepared for the developments."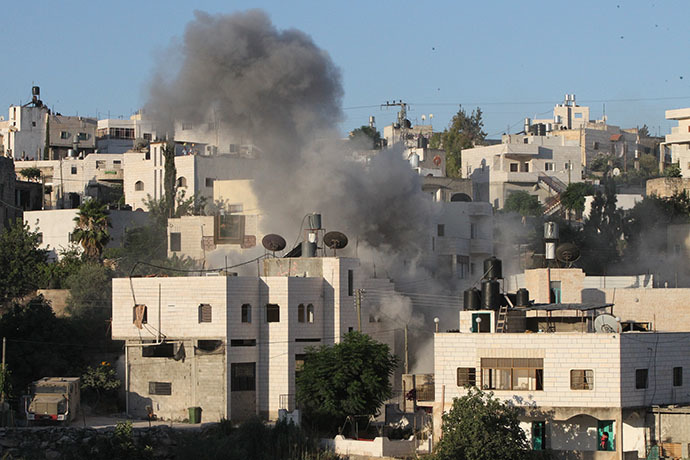 Overnight rocket fire exchange between Israel and Palestine came after the burned body of a 16-year-old Palestinian boy, Muhammad Hussein Abu Khdeir, was found in a Jerusalem forest Wednesday.
The teenager was reportedly abducted near his East Jerusalem home a short time before his body was discovered.
According to the boy's relative, he was abducted around 3:45 am in a Palestinian neighborhood in Jerusalem when a car did a U-turn in front of him. Then someone called him over and forced him into the vehicle.
The discovery of the Palestinian teen's body in Jerusalem triggered a mass rally by Hamas supporters. The protest was describes by Hamas spokesperson as "a condemnation of the Israeli crimes against our people in the West Bank and Jerusalem".
The clashes in East Jerusalem, which lasted 12 hours, were said to be the worst in years as. Protesters were throwing stones at security forces, who responded by firing sound bombs, tear gas and rubber bullets.
Police are investigating whether Khdeir was killed in retaliation for the death of three Israeli teenagers who were buried on Tuesday after being kidnapped in the West Bank last month.
You can share this story on social media: