Israel bombards 34 sites in Gaza Strip hours after finding missing teens dead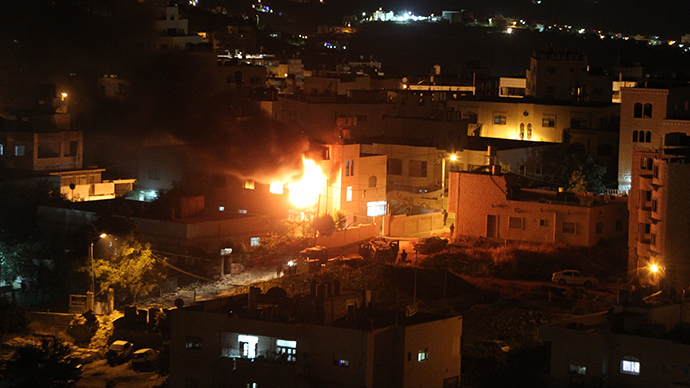 The Israeli Air Force bombed dozens of sites in the Gaza Strip hours after a search for three missing young Israelis led to discovery of their dead bodies. The Israeli government is contemplating further action.
The airstrikes on 34 targets were conducted on Tuesday morning in a standard Israeli response to rocket launches from the Gaza Strip, the IAF reported. The tension has been reaching the boiling point amid two weeks of door-to-door searches and arrests in the Palestinian territories by the IDF. Palestinian militants launched five rockets at Israel overnight, or over 20 projectiles since late Sunday.
Palestinian rockets caused damaged to a building in Israel, while Israeli bombs left several people lightly injured.
Also overnight a Palestinian man was killed by the IDF as he was trying to throw a home-made grenade at a group of Israeli soldiers conducting arrests in the Jenin refugee camp in the West Bank. The killed man was identified as Yousouf Ibrahim abu Zagha, 19, by the Palestinians. Several people have been killed amid clashes between Israeli forces and Palestinians angered by the Israeli searches and arrests over the two weeks.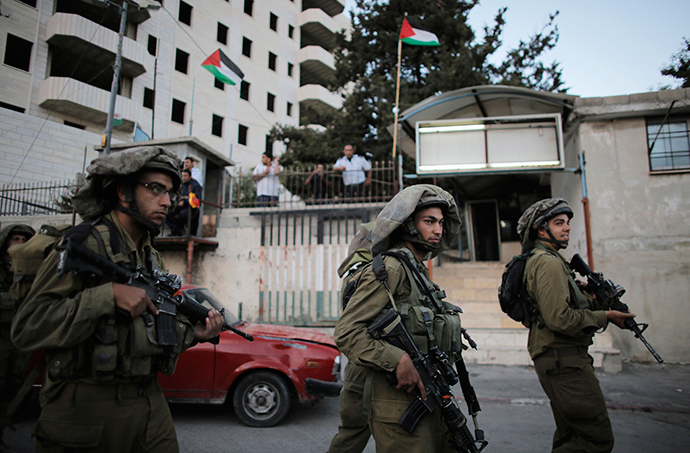 The Israeli government has blamed the Palestinian militant movement Hamas for the alleged abduction of three Israelis aged between 16 and 19, who went missing on June 12. Many of the people arrested by the Israeli forces have links to Hamas.
Hamas warned Israel against waging war on the Gaza Strip, saying this would "open the gates of hell" on Israel. Hamas spokesman Sami Abu Zuhri said that Israel bears responsibility for the latest escalation in the Gaza Strip.
Meanwhile the bodies discovered Monday afternoon in a field northwest of Hebron have been identified as belonging to Gil-Ad Shaer, Naftali Fraenkel, and Eyal Yifrah, the missing teenagers.
On Tuesday, United Nations human rights spokesman Ravina Shamdasani pressed both sides to exercise "maximum restraint" following the discovery of the bodies near the West Bank city of Hebron.
"We urge all parties to refrain from punishing individuals for offences they have not personally committed or by imposing collective penalties," Shamdasani told a news briefing in Geneva.
You can share this story on social media: