Israel raids West Bank, 150 Palestinians arrested in search for missing teens
Israel has arrested scores of Palestinians, including the parliamentary speaker, in its hunt for the abductors of three teenagers. PM Benjamin Netanyahu demanded cooperation from the Palestinian Authority in returning the captives.
"I expect you to help in the return of the kidnapped youngsters and in catching the abductors," a statement issued by the prime minister's office quoted Netanyahu as telling Palestinian President Mahmoud Abbas in a Monday phone call.
Abbas responded with a public condemnation of the kidnapping.
Israeli government accused the Palestinian movement Hamas of being behind the abductions on Thursday last week, but Hamas denied the allegations.
The IDF conducted mass arrests of Palestinians in the days of the hunt, with as many as 150 people taken into custody by Monday. Among them is Palestinian parliament Speaker Aziz Dweik, who is a member of Hamas, who was arrested overnight, and six other Palestinian MPs.
The army also conducted house-to-house searches, round-ups and interrogations in the West Bank, where the three Israelis vanished while apparently hitchhiking. Palestinian witnesses said in once instance the soldiers used explosives to force their way into a home in the city of Hebron belonging to a Hamas-linked family after occupants would not let them in.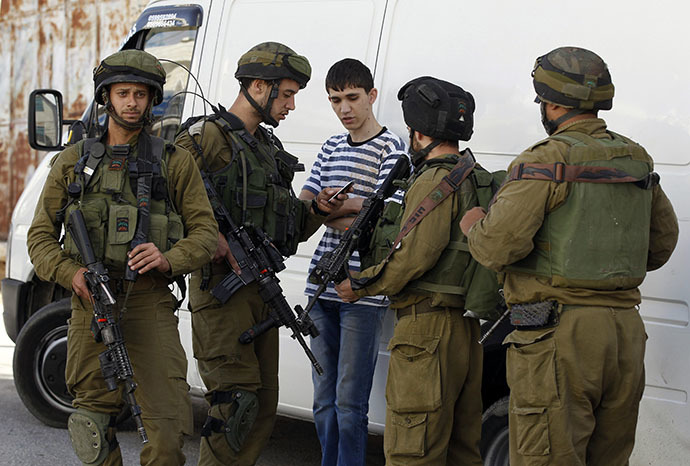 In a separate incident a 19-year-old Palestinian was shot dead during clashes in Jalazoun refugee camp on the outskirts of Ramallah as the searches were being conducted by the Israeli, according to Palestinian medics. Palestinian security sources told AFP the victim, Ahmad Arafat, was released from an Israeli prison a week ago.
Amid the high tension two rockets were fired from Gaza into southern Israel and both were intercepted by the Iron Dome anti-missile defense system. Israeli Air Force responded with air strike in Gaza, which injured two Palestinians, according to Gaza medics.
Israel identified the abductees as seminary students as Eyal Yifrach, 16, Gil-ad Sha'er, 19, and Naftali Frankel, 16, who also holds US citizenship. One of them managed to call police on Thursday night to report that they were being kidnapped.
Nobody took responsibility for the abduction or voiced any demands for their release.
The kidnapping and Palestinian Authority's admission that it is cooperating with Israel in the search strained the relations between Abbas' Fatah movement and Hamas, which criticized Fatah for it. The two rival Palestinian factions sealed a pact last month to form a unity government.
The move angered Israeli government, which sees Hamas as their enemy, but tries to negotiate with Fatah on a possible reconciliation.
You can share this story on social media: