​Israel killing of Palestinian teens an 'apparent war crime' - Human Rights Watch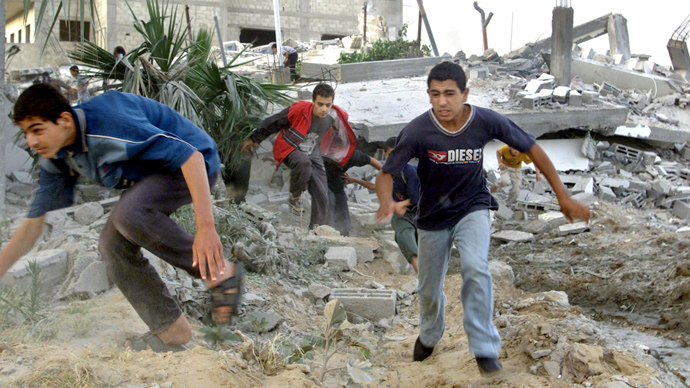 The killing of two Palestinian teenagers by Israeli military forces on May 15 during a demonstration in the occupied West Bank might be a war crime, according to Human Rights Watch.
Muhammad Abu Thahr, 16, and Nadim Nuwara, 17, were both shot dead by Israeli troops as the pair protested the ongoing occupation of Palestinian lands. Video footage, photographs, witness statements, and medical records indicate that Israeli military forces used live ammunition against the boys and 15-year-old Mohammed Azza, who was seriously wounded in the incident, Human Rights Watch said in a report, entitled 'Killing of Children, Apparent War Crime,' released Monday.
The Israeli military said it "did not use live fire" during the demonstration, only rubber bullets and teargas, adding that it did not have an immediate reaction to the report.
Footage retrieved from security cameras on Palestinian properties near the scene of the alleged shootings shows the two teenagers hitting the ground at separate times, apparently shot despite posing no immediate threat to Israel troops.
"The wilful killing of civilians by Israeli security forces as part of the occupation is a war crime," said Sarah Leah Whitson, Middle East and North Africa Director for Human Rights Watch.
She added that the Israeli military's claim that it did not use live ammunition on May 15 "does not stand up to scrutiny," and that Israel must prosecute those who shot the teenagers and any military officials who ordered the use of live rounds.
"Offenses committed by Israeli security forces as part of the occupation, such as deliberate attacks on civilians, would be subject to prosecution under international humanitarian law as war crimes," Human Rights Watch said. "Israeli forces have repeatedly shot Palestinians who posed no imminent threat with live ammunition during similar protests, including at an April 4 demonstration in the same location, and the Israeli military has a poor record of bringing soldiers to justice for such acts."
The Israel military said it's investigating the incidents, though Defense Minister Moshe Yaalon has suggested the surveillance footage could have been manufactured. Human rights organizations that distributed the videos deny any doctoring.
The report also said that Palestinians who attempted to aid Nuwara were fired on with rubber bullets from Israeli forces.
A fired projectile "struck the head of a Palestinian medic who was wearing a bright orange vest," Human Right Watch wrote.
The protest where the killings took place was part of demonstrations across the West Bank marking Nakba Day, when Palestinians commemorate the confiscation of homes in the 1948 war that led to the creation of the state of Israel and the displacement of hundreds of thousands of Palestinians.
Though the protest where Thahr and Nuwara were killed was at times violent – Palestinian youths threw rocks at Israeli forces – the security footage suggested no stone throwing was occurring when the two teenagers were shot.
You can share this story on social media: