Netanyahu urges world not to recognize Palestinian unity govt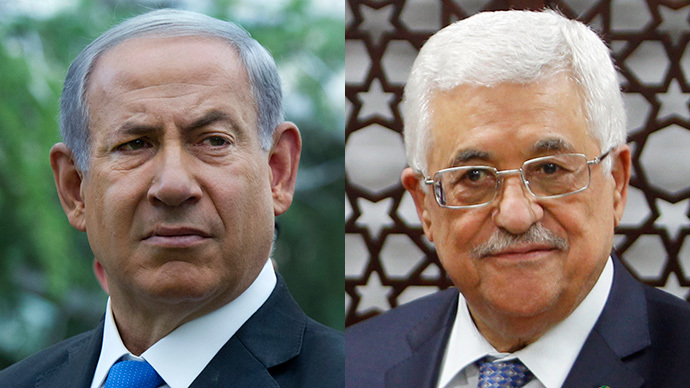 Israeli Prime Minister Benjamin Netanyahu has firmly warned against the recognition of any Palestinian unity government, stating that a Fatah-Hamas government would only strengthen terrorism.
"I call on all responsible elements in the international community not to rush to recognize a Palestinian government which has Hamas as part of it and which is dependent on Hamas," he said during a public cabinet meeting.

Netanyahu also stated on his official Twitter account that Hamas is a terrorist organization and that the unity government "rests" on it. He denounced Hamas for calling for the "destruction of Israel," adding that "the international community must not embrace it."

Any Palestinian government would be comprised of the former rival factions Fatah and Hamas.

Both Israel and the West have deemed Hamas a terrorist organization.

Netanyahu made his comments one day before the announcement of the Palestinian cabinet, which is expected to take place on Monday. A unity government would consist of ministers who are not politically affiliated, according to Palestinian President Mahmoud Abbas.

On Saturday, Abbas – whose Fatah party signed a deal with Hamas in April – stated that Israel would be severing all ties with the Palestinian Authority (PA) following the announcement of the unity government.

Israel "informed us...they would boycott us if we announced the government," he said. A senior figure in the Palestinian president's office also told Haaretz that all contact would be "severed."

It is expected that Israel will be withholding tax revenue from the PA. The last time such a measure was taken was in 2012, as a reaction to a Palestinian bid for UN statehood recognition.

Peace talks between Israel and the Palestinians resumed last July. At that time, Abbas said he would suspend attempts to join UN agencies, while Israel promised to release 104 Palestinian prisoners in four groups.

The prisoner release is a difficult political step for Israel, with far-right coalition partners angry at the idea of freeing terrorists who have committed lethal attacks. But in Palestine, freeing inmates helps increase support for Abbas from popular Islamist groups who are opposed to negotiating with Israel.
When in April Israel failed to release a fourth batch of prisoners in March, the Palestine Authority said it was immediately applying for admittance to 15 UN agencies and conventions, with the peace talks hitting another dead end.
You can share this story on social media: