​UKIP invites Grand Mufti of Egypt to extremism debate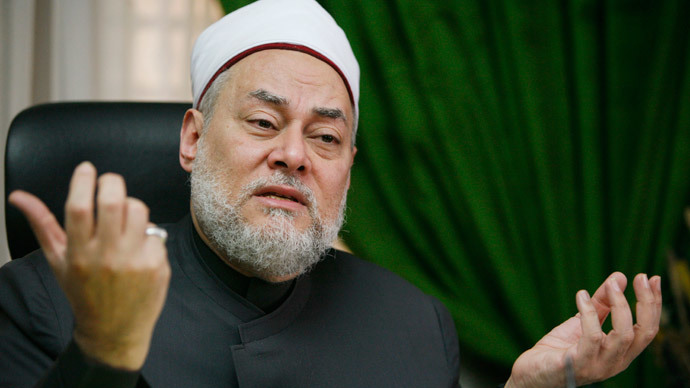 One of the world's leading Islamic leaders is to participate in a debate on religious extremism, organized by the controversial United Kingdom Independence Party (UKIP).
The Grand Mufti of Egypt, who is to meet UKIP leader Nigel Farage, will participate in a discussion on youth radicalization and religious extremism, chaired by UKIP MEP Amjad Bashir.
Speaking to the Times, Bashir said the debate was important in light of the number of young Muslims joining jihadist militia groups in Syria, and that it would remind British Muslims of "the teachings of their religion and developing strategies for combating religious intolerance."
The Grand Mufti, Shawqi Ibrahim Abdel-Karim, is Egypt's leading religious authority, and the first to be selected by Islamic scholars rather than the head of state. While many revere him as an Islamic leader, others have questioned UKIP's decision to invite him.
"The Grand Mufti of Egypt is well-qualified to drive a counter-narrative to defuse the radicalization of young people, but I wonder if his team have done their homework — I am not sure if they have chosen the right platform to present on an issue of such importance," said the director of the London Faith Forum, Mustafa Field.
The debate, which takes place on Friday, will see the Grand Mufti speak alongside the former Archbishop of Canterbury Lord Carey of Clifton. Carey is a controversial figure, even in Christian circles, especially after accusing moderate Muslims of being too dismissive about suicide bombers.
Chairman of Parliament's Foreign Affairs Committee Richard Ottaway also said inviting the two men was an "odd connection."
"What the Grand Mufti and Nigel Farage have got in common remains to be seen," he said. "But I wish them well."
Bashir, one of UKIP's most prominent Muslims, said the debate between the religious leaders would be "very healthy."
"I want to have a debate as to why people who are born and raised in our country are getting radicalized. This is a dilemma of our time and we have to think beyond party politics," he added.
While UKIP defines itself as an anti-EU party, it has received a significant amount of criticism by British media for alleged racism and prejudice against the UK's Muslim community.
Earlier this year, UKIP MEP Gerard Batten, the party's immigration spokesperson, suggested British Muslims be made to sign a "charter" condemning religious violence.
UKIP leader Nigel Farage has also formally called for the government to remove the citizenship of British Muslims who have traveled to Syria and Iraq to join jihadist militant groups.