'Dull & backward': UKIP's Farage slams MEPs in anti-EU tirade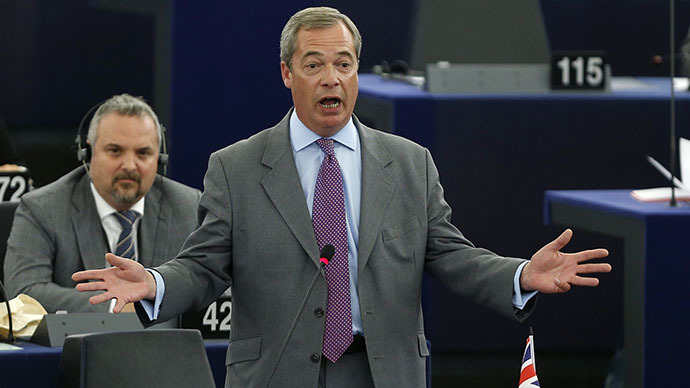 UKIP MEP Nigel Farage attacked fellow members of the European Parliament on Thursday, claiming "the Eurosceptics are now the progressives".
He argued other members of the chamber had nothing to say besides what he called "the usual dirge-like, dull, looking back to a model invented 50 years ago".
"What you're going to have to get used to – all of you – is the idea that across the political spectrum, there are now more political Eurosceptics in this parliament than there have ever been, and many of them do not subscribe to ever closer union, they don't subscribe to that flag, they don't want a European anthem."
Farage was confronted by Green MEP Philippe Lamberts, who said the UKIP leader sounded like the leader of the opposition in the House of Commons. "If you want to give that kind of speech – get elected there," he said. "What are you doing here?"
Farage brushed off the remark, chiding Lamberts and others for their approach to the rapidly growing Eurosceptic voice in the European Parliament.
"You sound like someone from the old communist era, saying that if anybody else has a different point of view, clearly they're mentally ill or there is something wrong with them," quipped Farage.
Hinting at his confidence in a UK withdrawal from the EU, Farage hammered home the Eurosceptics' vision for Europe.
"They want a modern Europe where we can trade together, cooperate together and have mutual respect for each other. And I'll tell you this, Mr Lamberts – don't worry too much about my presence, because within the next five years, I won't be here. Alright?"
"We're the ones that want democracy, we're the ones that want nation state, we're the ones that want a global future for our countries, not to be trapped inside this museum," he added.
UKIP did surprisingly well in May's European Elections, gaining 27.5 percent of the vote, pushing the Conservatives into third place and Labour into second. Eurosceptic parties across Europe also made historic gains.
The UK's relationship with Europe remains a contentious subject with Prime Minister David Cameron promising an in/out referendum in 2017 if his party wins next year's general election.
Cameron faced "utter humiliation" according to the Labour opposition on Monday as he congratulated Jean-Claude Juncker on his win as European Commission president – despite fiercely opposing his nomination for almost two months.
You can share this story on social media: