Over Bond St in the buff! Naked free-runner scales London skyline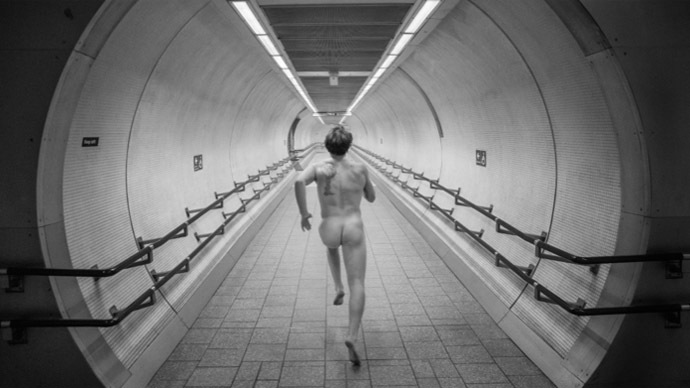 For free-runner world champion Tim Sheiff, it wasn't enough to scale some of the most impressive buildings on the London skyline. He had to do it completely naked. And take photographs.
In a series of black and white shots, captured by friend and photographer Jason Paul, Sheiff scales ornate buildings, runs through underground stations, and performs incredible feats of agility, all whilst stark naked.
The idea for the collection of photos, entitled "Man & Mortar" was envisaged during a free-running trip to Greece, the pair told London Live.
"We were in Greece on a free running holiday and thought that it didn't quite fit the surroundings, and it just came to us, why not do it naked."
"It really fitted with the black and white style and we thought, why don't we continue this theme?" he added.
Once back in London, the pair began photographing Sheiff in his 'natural' element.
"In London, we got some better photos than we did in the first shoot; the architecture just lent itself so well to what we were doing," said Sheiff.
Their shoots were fraught with potential dangers. Not only were the men perched on the edges of precarious buildings, but they were often trespassing on buildings without any formal permission.
"These shots would not have beenpossible for a normal photographer," Sheiff told London Live, adding "not only did he need to climb too, but he also understands body positioning and posture."
"It was dangerous at times. We couldn't get permission from a lot of the buildings, so while the reaction was great from people who spotted us, some security guards were not happy."
While security guards posed one threat, the general public remained oblivious of the naked man climbing directly above their heads.
"There was quite a lot of the time when we would do it on rooftops and we would look down and there would be hundreds of people walking underneath you around Bond Street and not one person would look up.
"We managed to get away with it with not too much trouble and no one was offended," he added.
The dynamic duo hope their project will raise the profile of the sport, as well as creating some funds for Jamie Oliver's charity, Fifteen.
"No one has free running in a way that captures the form, the posture and the movement it requires. Doing it naked gave a different aspect of it, in a completely non-sexual way."