​Dump 'n' ride: Poo-powered, eco-friendly bus hits UK streets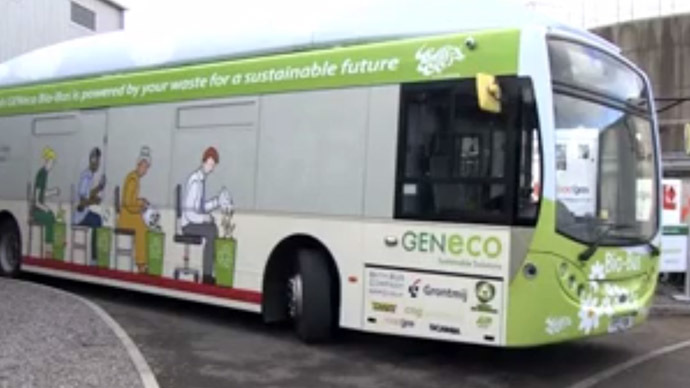 Britain's first poo-powered bus has done the business - making its maiden journey through the west of England. The bus service, which will run between Bristol and Bath, is completely powered by treated sewage and food waste.
The eco-friendly "bio-bus" runs on biomethene gas, which is produced when human waste products are treated through a process called anaerobic digestion.
The vehicle has the capacity to travel up to 300 kilometers on a single tank of gas; or the equivalent of five people's annual waste products.
The gas is being produced by energy firm GENeco at a Wessex water sewage plant.
The director of GENeco, Mohammed Saddiq, said gas powered vehicles "have an important role to play in improving air quality in UK cities."
"But the Bio-Bus goes further than that and is actually powered by people living in the local area, including quite possibly those on the bus itself," he added.
The bus engine is a similar size and design to those in conventional regional buses, but operates with a 30 percent reduction in carbon dioxide emission.
Sewage and other food waste is treated to produce methane-rich gas, before undergoing "upgrading" where carbon dioxide is removed, and propane added.
READ MORE:'Poo power': UK firm turns human waste into clean energy'Poo power': UK firm turns human waste into clean energy
But travelers need not worry about a potentially ripe odor affecting their journey, as impurities are removed from the gas to leave the fuel stink-free.
"The bus also clearly shows that human poo and our wasted food are valuable resources," said Charlotte Morton, CEO of the eco-friendly Anaerobic Digestion and Bioresources Association.
"Food which is unsuitable for human consumption should be separately collected and recycled through anaerobic digestion into green gas and biofertilisers, not wasted in landfill sites or incinerators."
The first outing of the poo-powered bus follows claims in October by Severn Trent Water that it had become the first power company in the UK to provide biomethane gas to the National Grid.
The eco-bus is the first vehicle of its kind to hit UK streets, and will run a service through the West Country, which carries 10,000 passengers each month.
Bath Bus Company's Collin Field, said: "With so much attention being directed towards improving air quality generally, the public reaction to the appearance of this bus on a service between a world heritage city and an airport will further focus on the potential for this particular fuel."
He called the timing of the bus "very appropriate" as Bristol will become the European Green Capital in 2015.